ANOTHER BEATING REPORTED AT CRAZY HORSE TOO
Pattern of Violence Continues
© Copyright Las Vegas Tribune
May 8, 2002
FRONT PAGE
By Steve Miller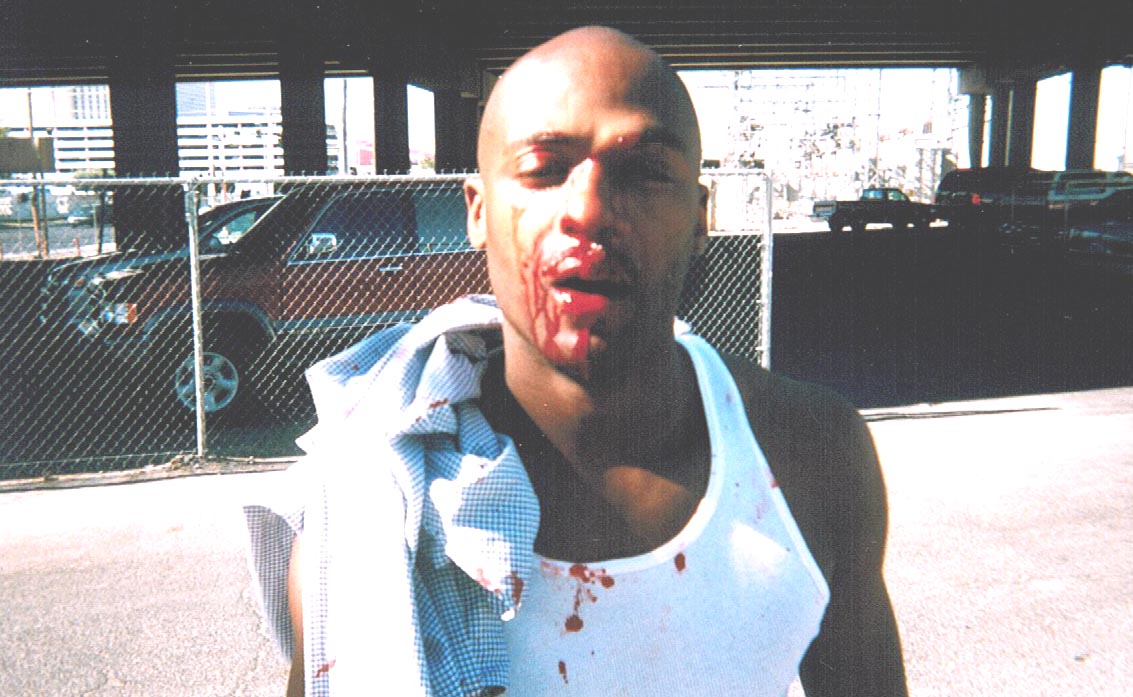 Alleged beating victim Jermaine Malcolm Simieou (Tribune photo)

LAS VEGAS - Another in a long list of alleged beatings of patrons of the Crazy Horse Too topless bar occurred on the morning of April 30. Las Vegas electrician Jermaine Malcolm Simieou said club personnel beat him up after he was told to leave the bar for engaging in an argument with another patron.

The Police Report stated, "Victim states as soon as they got outside, victim was struck while his arms were being held by a bouncer, another person was hitting victim in his head." The Report goes on to say, "Victim states his arms were held by someone while he was being hit. Victim states he has a black eye, two chipped teeth, a possible broken nose, knots in his head and his shoulder is bruised."

Subsequent medical reports obtained by the Tribune confirmed that Simieou did suffer a broken nose among other injuries.

Police and paramedics responding to 911 calls from passersby treated and released the victim at the scene. No arrests were made.

An eyewitness told the Tribune, "I was passing by the club when I saw a bouncer holding a black man while another bouncer repeatedly punched him in the face and head." The witness, a former club employee who asked not to be named, identified the two bouncers and told the Tribune that she had witnessed the same men beat other club patrons on previous occasions.

Patterns of similar beating incidents have been reported at the Crazy Horse Too in recent years. On August 4, 1995, Scott David Fau was found beaten to death next to railroad tracks behind the Crazy Horse Too. Witnesses reported seeing Fau being severely beaten by Crazy Horse employees in the parking lot after he was ejected. Fau's widow, through her attorney Randall Pike, brought a wrongful death action against the bar that is pending trial in the court of District Judge Nancy M. Saitta. Judge Saitta recently vacated a jury trial date for the second time in the six-year history of the case.

On May 24, 2001, Kenneth Kirkpatrick told police that he had a disagreement with the management of the Crazy Horse regarding the amount of his bill. In the police report he claimed he was forced to sign a charge on his Visa card for $220, and according to the report: "the bouncers were shoving (him) around. Security then knocked him to the ground and punched and kicked him in the face and back of the head. Victim's arms were grabbed and he was handcuffed. Victim then states he felt hands in his pockets."

A few minutes later his wallet was tossed into his lap, the handcuffs were taken off and he was told to leave. Later he discovered that $140 was missing from his wallet, the report stated. Police submitted the case to prosecutors who obtained warrants for four Crazy Horse Too employees who were charged with robbery, battery, conspiracy to commit robbery, and coercion. However, the District Attorney refused to prosecute the employees.

On September 20, 2001, Kansas resident Kirk Henry claimed that he had been ejected from the bar for allegedly not paying an eighty-eight dollar bar tab. He then said that two bar employees beat him and took all his cash with the exception of one dollar. One of the bouncers reportedly snapped Henry's neck causing his spinal cord to sever. Henry, through his attorney Donald Campbell, has filed a lawsuit against the Crazy Horse. The Metro Police Robbery Detail is considering filing attempted murder charges against the two bouncers. The case is pending trial in the court of District Judge Jeffrey Sobel. No trial date has been set.

On September 28, 2001, California residents Joel Denney, Mark Bujuklian, and Sean Spanek filed notarized affidavits with Metro Police also claiming to have been beaten up by bouncers after they complained about being charged $400 for a bottle of champagne. No official action was taken.

On November 13, 2001, the bar's attorney, Tony Sgro, filed a motion to place a Gag Order on the Las Vegas Tribune to stop this newspaper from breaking stories of violent incidents at his client's place of business. When attorneys for the ACLU and Review Journal were seen attending the hearing, Judge Saitta dismissed the motion.

Frederick "Rick" Rizzolo, owner of the Crazy Horse, is one of the most generous campaign contributors in Nevada averaging between $75,000 and $100,000 per year in contributions to politicians including judges and DA's.

Numerous complaints against the Crazy Horse have been filed with outgoing Clark County District Attorney Stewart Bell, but so far he has taken no action on any complaint involving Rizzolo. Coincidentally, Rizzolo has hosted two fundraisers for Deputy DA David Roger's candidacy to replace Bell.

Law enforcement has long considered Rizzolo an associate of numerous Chicago mob figures. Calls to Mr. Rizzolo for comment on this story were not returned.

Simieou told the Tribune that he is considering filing a lawsuit against the nightclub.

© Copyright 2002, Las Vegas Tribune. All Rights Reserved.