</P>


Good bye old friend.
Councilman Bob Nolen: 1941 Ė 2001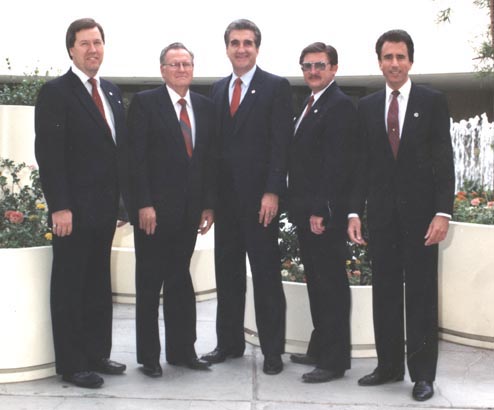 1987 Las Vegas City Council, L. to R. Arnie Adamsen, Wayne Bunker,
Mayor Ron Lurie, Bob Nolen, and Steve Miller
Las Vegas Tribune
October 17, 2001
By Steve Miller
Bob Nolen and I shared four tumultuous years together on the Las Vegas City Council. The crusty old Vietnam vet and I fought like dogs and cats from the beginning until the end of my one term in office.
Some of our tangles were legendary like the time during a Council meeting when Bob made the statement on the record that "Councilman Miller crawled out from under a rock to point his ugly accusatory finger of blame at everyone on the Council."
That remark inspired me to move a controversial homeless shelter called Soup Soap and Hope out of my Downtown ward and into Bob's! He was an ex-cop and had little sympathy for listless souls, so I knew my action would get his goat.
I helped the shelter make the move to a spot in his ward near the Bonanza underpass. Bob went ballistic as I expected!
The shelter's founder was a fiery little man named John 316 Cook who also didn't get along too well with the Council, and especially Bob Nolen.
When Bob took offense to my moving the shelter out of my ward and into his, the TV news was inundated with Bob Nolen's remarks about how I was trying to dump my ward's problems on him.
Well, he was right! After his "ugly finger" remark the gloves came off and the two of us went at it at City Hall!
When John 316 learned that his mission was not welcome in Bob's part of town he called a press conference on the steps of City Hall.
Standing among several dozen denizens of Downtown was John 316 waiting for the cameras to roll. When they did, out of the Southern preacher's mouth came the most shocking words I have ever heard a clergyman say about another human being.
A pretty female reporter asked John 316 what he thought of Councilman Nolen's efforts to throw Soup Soap and Hope out of Ward 3, and the reverend answered: "That little piece of snot can't make me move without the help of God Almighty, and I don't believe the Lord is goin' along with Nolen on this one."
Then, Channel 8 saw a chance to up their ratings by getting the two of us together for the opening story on the six o'clock news - but neither of us would agree to be in the same room at the same time. The stations decided to put us on a split screen together, me from my home and Bob from his to let us have it out on live TV.
The acrimonious interview opened by Bob telling Paula Francis that "Steve Miller stepped into City Hall with one intention; to turn the building upside down!"
I answered that my real intention was to "turn the place upside down to shake out all the cockroaches!"
The interview went downhill from there until Gary Waddell made us shut up.
The next day at City Hall, Bob and I accidentally found ourselves riding in the same crowded elevator. You could hear a pin drop as the door opened and I stepped in. Just when the atmosphere had become so thick that you could cut it with a chainsaw, Bob started giggling, and the both of us broke up in laughter!
For the next three years, Bob Nolen and I continued to fight publicly, but behind closed doors we kept sharing laughter. Maybe it was the type laughter that two schoolboys share before a fight - but it was laughter nonetheless.
Bob Nolen was the type of man who let you know how he felt anytime and anywhere he thought that you needed to know. He was constantly in my face.
I'm sure in his younger years he made most of his statements with his fists or an M16 rifle, but that doesn't always work at City Hall. His honest opinions expressed directly in your face in his gravely voice definetly got your attention.. He always reminded me of how my Dad used to react when I had been an evil little brat. (Bob was always a gentleman around ladies.)
As time went on, Bob Nolen began to fascinate me with his two most salient emotions: anger and humor - sometimes used at the same time!
It was impossible for me, or any one else, to hold a grudge against Bob Nolen for very long. You would love him and hate him simultaneously but you wouldn't want to lose contact with him - he was just too interesting a guy!
Finally, there came a time when we needed to get together on several projects that would effect the town we both loved.
To the amazement of everyone, Bob and I co-sponsored the City of Las Vegas Ethics in Government Law. Then he helped Councilman Wayne Bunker and I with the Cable Television Ordinance that created TV coverage of Council and Commission meetings. He also helped me to settle a union strike, and to put together the Main Street Station project with our mutual friend Bob Snow.
Before long, Bob Nolen and I became colleagues-of-sorts for the good of the city.
We still had our conflicts, but our battles became more of a sporting event than the knock down drag out type we first had.
After I left City Hall in 1991, Bob stayed on for the two years remaining in his term. During that time Bob discovered the real Jan Jones.
One day in 1992, Bob and I ran into each other at charity event. Right there in front of half the town, Bob walked over to me and gave me a bear hug. He then told me that he shared my anger with the then-mayor for the dirty tactics she used to get elected. He said that he could not stand being around her and would not seek a fourth term.
For that we became soul mates.
Several more years passed and one day, by complete surprise, I answered my door to find Cindy and Bob Nolen standing on my porch with their little boy. Bob was doing what he was famous for - catching someone by surprise and letting them know just how he felt.
He had come to my house to lend his support to the Nevada Coalition Against Gambling Expansion Outside Nevada, a group I chair. The Nolens and the Millers spent a delightful afternoon and evening together. Several months later, the Nolens blessed us with a second visit.
Because of Bobís effort to resolve our differences, a true friendship formed between two former adversaries and our families. Bob Nolen by that one action taught me what it is to be a real man. He will truly be missed.
Services for Councilman Bob Nolen will take place at 2 PM, Wednesday, October 17, at Palm Mortuary on North Main Street followed by burial at Woodlawn Cemetery.