Federal Judge's brother is
Rizzolo's personal lawyer
INSIDE VEGAS EXCLUSIVE!
Why 16 Crazy Horse defendants
got off with slaps on the wrist


INSIDE VEGAS by Steve Miller
AmericanMafia.com
September 10, 2007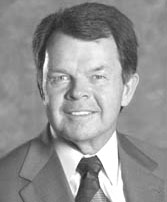 .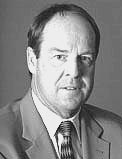 The Dawson brothers - Judge Kent and Attorney John
LAS VEGAS - In 2005, immediately following Rick and Lisa Rizzolo's hasty divorce and three weeks after the about-to-be convicted racketeer began negotiating his plea agreement with Federal Government Prosecutors, the couple on advice of their shared divorce attorneys Dean Patti and Tony Sgro visited the highly respected law firm of Lionel Sawyer and Collins in Las Vegas, a law firm closely associated with United States Senator Harry Reid. There they met with attorney John E. Dawson, the brother of U.S. Federal Court Judge Kent Dawson.

Patti and Sgro made a very wise choice when they recommended John Dawson to do the Rizzolo's asset protection planning. Attorney Dawson's brother, in less than one year, would be the Federal Judge assigned to preside over the trials of 16 of the 17 Crazy Horse Too defendants.

Throwing conflicts of interest to the wind, attorney Dawson went right to work setting up the "LISA M. RIZZOLO SEPARATE PROPERTY TRUST."


Mr. Dawson transferred most of the couple's assets including a
5,763-square-foot home on the Canyon Gate Golf Course in Las Vegas; a 4,000-square-foot oceanfront home in lush Newport Beach, California; a lake front condominium in Chicago; and five luxury cars along with a $7.2 million dollar annuity into the asset protection trust Rick Rizzolo got to keep his infamous Crazy Horse Too topless bar, and several expensive cars (plus millions of dollars in cash he's alleged to have stashed in
safety deposit boxes at
the MGM and Palms casinos).

Attorney Dawson did this even though Rick Rizzolo's battle with the FBI and IRS was front page news at the time.

Within weeks of setting up her trust, Lisa Rizzolo took out hefty mortgages on the three houses and promptly hid the cash according to an FBI Special Agent -- something she was probably advised to do by one of her esteemed attorneys.

Then according to
FBI documents
Rick Rizzolo followed suit and immediately obtained a second mortgage on the Crazy Horse property for $5 million, also hiding the proceeds which he took in U.S. currency. Combined with the strip bar's $5 million first mortgage, he encumbered the shuttered property to well over its present market value without its operating liquor license. A brilliant scheme to protect his family's wealth from government seizure. A scheme only the best attorneys in Nevada could devise.

Excerpts from John E. Dawson's resume state: "Mr. Dawson has extensive practice experience in estate, business... wills.... revocable living trusts...

asset protection planning

(emphasis added)... and all related corporate law in support of entity formation, including corporations, family limited partnerships, and limited liability companies. He is co-author of
Asset Protection Guidebook
(emphasis added)
for Attorneys and Accountants
."

With so much experience in the

art

of asset protection -- a skill many believe to be slight of hand when used to hide assets from seizure by the courts -- John E. Dawson was exactly the kind of attorney the Rizzolos needed to retain their ill-gotten fortune in the face of imminent forfeiture by another U.S. Federal Court Judge.

After setting up the separate trust, the Rizzolo's hired John E. Dawson as the Resident Agent for the Crazy Horse Too's parent corporation, "THE POWER COMPANY, INC."


THE POWER COMPANY, INC.
Business Entity Information
Status: Active File Date: 6/19/1972
Type: Domestic Corporation Corp Number: C1966-1972
Qualifying State: NV List of Officers Due: 6/30/2008

Resident Agent Information
Name:

JOHN E. DAWSON, ESQ.

Address 1: 300 S. FOURTH ST.
Address 2: SUITE 1700 City: LAS VEGAS
State: NV Zip Code: 89101
https://esos.state.nv.us/SOSServices/AnonymousAccess/CorpSearch/CorpSearch.aspx


Two years after their meeting with Mr. Dawson, the family of beating victim Kirk Henry, the IRS, City of Las Vegas, and Rizzolo's next door neighbor Buffalo Jim Barrier are wondering how they ever will collect all the court-ordered fines, forfeitures and settlements in
their combined claims against the Rizzolos -- claims totaling over $28 million dollars? So far, Federal Court Chief Judge Philip M. Pro who sentenced Rick Rizzolo to one year and one day in the Los Angeles Federal Detention Center has not mentioned going after Lisa Rizzolo's illegally transferred assets. Meanwhile, on Wednesday, August 29, 2007, Judge Pro ordered U.S. Federal Marshals to seize the
out-of-business Crazy Horse Too topless bar and its contents, along with its 2.7 acres of Industrial Road real estate (possibly to keep Rick Rizzolo's family from burning it down to collect insurance).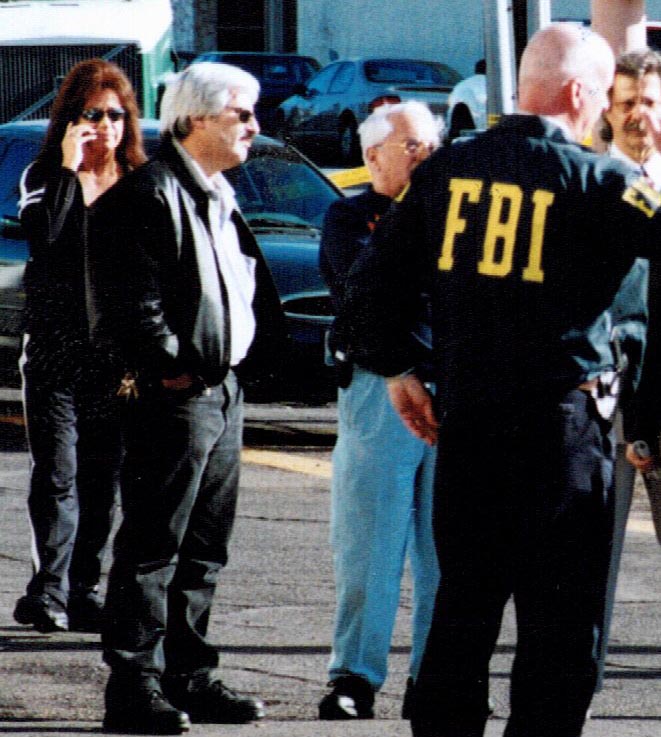 After the seizure, Rick's
sister Annette (left),
brother Ralph (center), and
father Bartholomew (standing near FBI agent in this Feb. 1, 2003 AmericanMafia.com photo by Mike Christ), were observed on four occasions illegally entering the strip club to allegedly steal items that were seized by the government. It's long been suspected that Rick Rizzolo stashed guns, drugs, and cash in hiding places within the building. For some unknown reason, U.S. Marshals did not change the locks to prevent the Rizzolos from re-entering.

At 11:30 AM Tuesday, Sept. 4, Bart and Ralph Rizzolo were observed entering the building with several
LVMPD
officers.
At 12:30 PM, PDT, they were still on the property with the officers according to witnesses.


It's long been suspected that Rick Rizzolo bought favors from a small group of corrupt police officers who work out of the Southeast Command even though the Crazy Horse is located in the Downtown Command. After officers left the seized property, Ralph Rizzolo remained inside for three more hours. The FBI was called, but arrived after Rizzolo had already left.

The only mention of where the money would come from to pay all of Rizzolo's liens is in Federal Court documents that list three very questionable buyers who purportedly offered between $29 and $34 million. Not mentioned in the documents is San Francisco office building developer
Luke Brugnara
who submitted a written offer of $10 million with an agreement to assume the $5 million dollar first mortgage.

It's thought that anyone willing to pay up to three times market value would for such a place would have to be associated with La Cosa Nostra and fully know the potential of reopening the bar to resume the racketeering, extortion, prostitution, and dope sales that made Rizzolo filthy rich.

Brugnara tells INSIDE VEGAS that he's the son of a law enforcement officer, nephew of the former San Francisco Chief of Police, and his brother and sister in law are U.S. Federal Prosecutors in California. He told INSIDE VEGAS his offer is more than fair. He may be right especially since he would have to apply for a new liquor license from a city council that may not be receptive to someone with no ties to the mayor, his law partners, or the mob.

Rizzolo paid $5.5 million for the land and building in 2003 and at the time was thought to have been taken advantage of by the seller. Today, real estate experts say the property is worth no more than $8 million closed down, especially since the Nevada Department of Transportation released plans to to take a 23 foot deep swath of the property's frontage through
eminent domain
for a road widening. This will wipe out the front entrance of the topless bar and force its relocation to the alley behind the building.

Also, for the past seven years, all adult businesses in Las Vegas have been extorted by greedy hotel door men, limo, taxi, and van drivers who demand $30 - $70 per passenger, or they boycott the business. This quasi-legal practice drains hundreds of thousands of dollars in unreported cash from club owners each month. The Crazy Horse was the biggest target because Rizzolo started the problem by being the first to bribe drivers to bring customers to his door.


Meanwhile Kirk Henry, who was rendered a quadriplegic by one of Rizzolo's bouncers after he disputed an $88 bar tab, sits in his wheelchair collecting unpaid medical bills waiting for the remainder of his $9 million dollar judgment. (He received $1 million from Rizzolo's insurance in 2006.)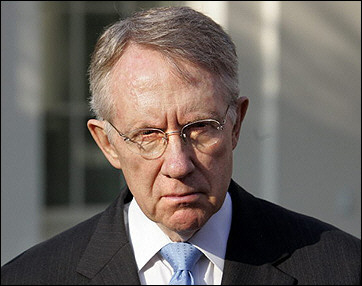 Kent Dawson was a humble Henderson Justice of the Peace until 1999 when Senator Reid (left) appointed him to the Federal Bench. With a Federal Judge as a brother, John E. Dawson was soon recruited into the prestigious law firm where he now enjoys status as a stockholder, and enjoys a list of prestigious clients including the Rizzolos.

What makes this all so highly disturbing is that Judge Dawson went real easy on 16 former Crazy Horse goons after they pleaded guilty to crimes including racketeering, tax evasion, robbery, and extortion; this after U.S. Federal Prosecutors asked for harsh sentences; and after a member of the New York Crime Commission testified about several of the defendant's mob ties.

Would Judge Dawson have been so lenient with the Crazy Horse goons if his brother had not gained lucrative clients like Rick and Lisa Rizzolo? Or had he not been appointed a Federal Judge by the business partner of one of the Crazy Horse Too's attorneys?


Judge Dawson sentenced Crazy Horse shift manager
Vinny Faraci
, a reputed Bonanno crime family soldier who had a prior felony conviction, to
only
five months in an Arizona
Federal Prison Camp
.
According to the
Las Vegas Review-Journal
, Faraci received a 10-month sentence from Judge Dawson, but the judge is allowing him to spend five months in prison and the remainder on house arrest. Dawson lessened Faraci's sentence after his attorney
David Chesnoff
argued at the sentencing hearing that Faraci risked losing custody of his children if he received a lengthy prison term.
According to
Review-Journal
columnist John L. Smith; "Although the New York Crime Commission confirmed Faraci's mob status, U.S. District Judge Kent Dawson said the defendant's underworld fraternal order had no bearing on his decision to sentence Faraci to just 10 months in jail with five of that to be served in a halfway house. He received a wrist slap and no mob jacket. If, as Assistant U.S. Attorney Eric Johnson contended at his January sentencing, Faraci condoned the occasional vicious beating at the club, the judge apparently wasn't much impressed."
But what's even more disturbing is that Faraci's attorney David Chesnoff is Mayor Oscar Goodman's
law partner
. Prior to being elected mayor, Goodman was Rick Rizzolo's criminal defense attorney and got him off with a gross misdemeanor after Rizzolo almost beat a Crazy Horse patron to death with a
baseball bat
. The patron, Rick Sandlin, died three years later of his injuries. Chesnoff works with Goodman's other law partner Jay Brown. Brown who is the
business partner
of Senator Harry Reid who appointed Judge Dawson.
I'm sorry, but this looks very incestuous.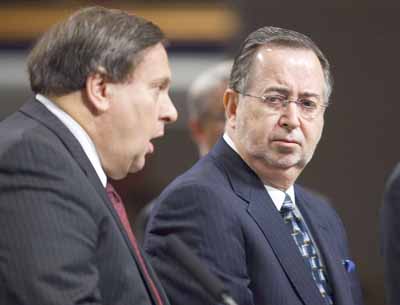 Mayor Goodman's law partner and Senator Reid's business partner Jay Brown (left) was the Crazy Horse Too's lawyer when straw man Mike Signorelli appeared before the LV City Council claiming to be buying the bar and property. This ploy stalled the forfeiture of the bar for almost a year. Brown's name has surfaced in organized crime investigations according to the

Washington Post

.

Prior to Judge Dawson's brother taking the Resident Agent position, Brown and Goodman served as Rick Rizzolo's

corporate agents. Up until its seizure, both Brown and Goodman did everything within their power to keep the blood soaked bar open for business.




(

Review-Journal

photo by Clint Karlsen)

Not once during the trials did Judge Kent Dawson disclose that his brother John E. Dawson was the Crazy Horse Too's corporate Resident Agent; that the Crazy Horse was paying most of the defendant's legal fees; that his brother arranged to hide the Rizzolo's assets from forfeiture; or that he was appointed to the Federal Bench by Senator Reid who is the business partner of Jay Brown who is the law partner of Oscar Goodman who was Rizzolo's former criminal defense attorney and current law partner of David Chesnoff who was defending Vinny Faraci in Dawson's court!

But this story gets even weirder!

While in Federal Prison, Faraci on April 24, 2007 had his lawyer Chesnoff apply for a Clark County Liquor License so Faraci could operate a topless bar to be named "Eden" after his release from prison. The County wisely turned down this arrogant request after I wrote an INSIDE VEGAS column about it. When asked how such an application made it on to the County Commission's agenda, a spokesperson for the County told INSIDE VEGAS,

"Faraci had a high powered attorney who wanted it on the consent agenda."

Multiple items on the consent agenda are voted on in one motion without discussion. Chesnoff actually thought he had the juice to pull this off!

Judge Kent Dawson should have recused. If not, he should've at least disclosed his relationships. But he did neither before slapping the wrists of the "Crazy Horse 16."

Now, thanks to the Dawson brothers, it will be a miracle if the family of Kirk Henry receives more than a fraction of their judgment, while the Rizzolos get to spend their hidden cash.



Copyright © Steve Miller