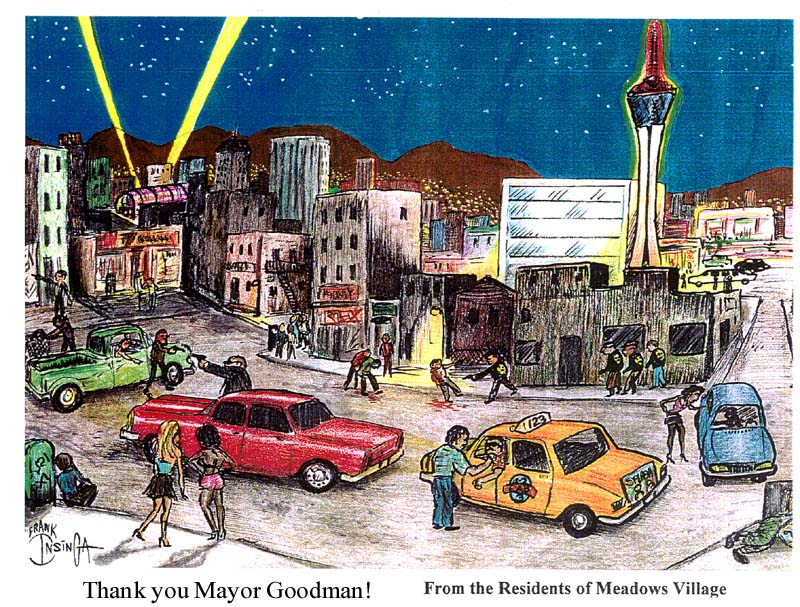 (Click on painting to enlarge)
Meadows Village Residents Present Painting to Mayor

Las Vegas Tribune
FRONT PAGE
July 10, 2002
By Tribune Staff

LAS VEGAS - An original water color painting by local artist Frank Insinga will be presented to Las Vegas Mayor Oscar Goodman at the next meeting of the City Council.

The painting entitled, "Thank you Mayor Goodman" was commissioned by Meadows Village property owner and resident Chris Christoff to commemorate what Christoff calls "A lack of interest in improving this important corner of our city."

The painting depicts drug deals, prostitution, and general mayhem in Meadows Village, a low income residential and industrial area located behind the Stratosphere Hotel that is inhabited mainly by Hispanic families.

Christoff told the Tribune, "How better to get the Mayor and Council's attention than to present an accomplished artist's impression of the unchecked crime just outside our front doors, especially when the Hilton is about to invest $28 million in our neighborhood?"

Christoff went on to say, "The residents of Meadows Village are being ignored in favor of other areas of our city. Mayor Goodman is concentrating on Fremont Street while our Meadows Village children are playing in crime infested streets."

Meadows Village residents have long asked for a Metro substation in their high crime area but have so far only received "lip service" from Metro and city officials according to Christoff. "Maybe this humorous painting will finally get their attention," he said. "Maybe now they will finally began to realize that our little corner of the city is in desperate need of help."

© Copyright Las Vegas Tribune, Inc.