Steve Wynn
THE SCOTLAND YARD REPORT
Provided as a public service by Steve Miller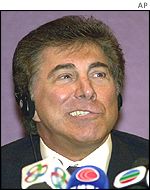 Associated Press photo of Steve Wynn
The mystery began in 1993 when the 103 page Scotland Yard Report was delivered to two Las Vegas journalists, John L. Smith, and myself. Its sender was not identified nor was it known why we were the only persons in Las Vegas to receive the document.
Mr. Smith wrote the book Running Scared: The Life and Treacherous Times of Las Vegas Casino King Steve Wynn using portions of the information he gathered from this document. Following the publication of Running Scared, Mr. Smith and his publisher were sued for libel by Mr.Wynn who challenged the veracity of most of the information contained in the Report and in Smith's book. Wynn's libel case is currently threading its way through the courts. At the bottom of this page you will find links to several newspaper and magazine articles selected to provide both sides of this fascinating story.
Below are links to the individual pages of the Scotland Yard Report. Because the scanned images are of photo copies, you may find them difficult to read though they are still legible. I believe that this document is public domain and therefore I make it available for your perusal. I also believe that you should be able to see the entire document instead of just hearing rumors about it. This way you can be the judge as to the document's authenticity and accuracy.
Steve Miller
Page 1-Report:
Page 2
Page 3
Page 4
Page 5
Page 6
Page 7
Page 8
Page 9
Page 10
Page 11
Page 12
Page 13
Page 14
Page 15
Page 16
Page 17
Page 18
Page 19
Page 20
Page 21
Page 22-Chart
Page 23-Index
Page 24-Index
Page 25-Index
Page 26-Index
Page 27-Hypothesis:
Page 28
Page 29
Page 30
Page 31
Page 32
Page 33
Page 34
Page 35
Page 36
Page 37
Page 38
Page 39
Page 40
Page 41
Page 42
Page 43
Page 44
Page 45
Page 46
Page 47
Page 48
Page 49
Page 50
Page 51
Page 52
Page 53
Page 54
Page 55
Page 56
Page 57
Page 58-Chart
Page 59-Chart
Page 60-Index
Page 61-Index
Page 62-Index
Page 63-Index
Page 64-Index
Page 65-Index
Page 66-Index
Page 67-Summary
Page 68-Summary
Page 69-Reference:
Page 70
Page 71
Page 72
Page 73
Page 74
Page 75
Page 76
Page 77
Page 78
Page 79
Page 80
Page 81-Appendix
Page 82-Appendix
Page 83-Appendix
Page 84-Chart
Page 85-Chart
Page 86-Donaldson Memorandum:
Page 87
Page 88
Page 89-Coxall Memorandum:
Page 90
Page 91
Page 92-Reference:
Page 93
Page 94
Page 95
Page 96
Page 97
Page 98
Page 99
Page 100
Page 101
Page 102
Page 103
THE VEGAS GUY: What is Steve Wynn doing?
Copyright © 2002
United Press International
By JOE BOB BRIGGS
April 24, 2002
Wynn is especially sensitive about a Scotland Yard report from the early 1980s that declared him unfit to own casinos in England. When Smith called Wynn to discuss the report a decade later, "he threatened to sue me within 10 seconds of my broaching the subject." Wynn was probably the most powerful man in Vegas at the time - he was derisively referred to as "Governor Wynn" - and his furor resulted in the column never running. (It became a chapter in "Running Scared.") Wynn's subsequent libel suit - which was originally based, not on the book itself, but on the catalog copy describing the book - was fought by Wynn and publisher Lyle Stuart for six years, going all the way to the Nevada Supreme Court, with Wynn at one point vowing that Smith and his family would end up on the street.
FULL STORY
Old guard under siege
Remaining D.I. Estates homeowners contend Steve Wynn hasn't been a good neighbor
Copyright © Las Vegas Mercury
November 14, 2002
By Bob Shemeligian
A year ago, a state arbitrator found for the homeowners. "The association exists to protect and promote the welfare and safety of its members," arbitrator Richard McCall writes in his decision. "The respondents [Wynn's development team] state candidly that they purchased property within the association solely for the purpose of destroying the association. ... This can hardly be consistent with the welfare and safety of the [remaining homeowners]." FULL STORY
Wynn and the First Amendment
ElectricNevada.com
By Steve Miller
former Las Vegas City Councilman
In 1993, my radio program began being picked up on stations from coast to coast. The program was being aired on WTIC in Hartford, Connecticut just at the time when Wynn was trying to get licensed to invest one billion Nevada-made-dollars in a casino there. Coincidentally, a story broke on the front page of the RJ detailing how Wynn had comped members of the "five families" at the Mirage. I had Jon Ralston and John L. Smith, who were reporting the events, on my program to discuss the incident. Their appearances generated numerous calls from New England listeners. When the Connecticut legislature turned Wynn down, he publicly named and blamed me for his failure at a meeting of the Conn. Chamber of Commerce. Wynn immediately threatened to sue me, my partner Russ Driver, and the stations carrying the program.
FULL STORY
The New York Times
Sunday, December 6, 1998
Front Page
A Gambling Impresario Leaves Little to Chance
By BRETT PULLEY
"Steve Wynn's control over politicians is all-encompassing," said Steve Miller, a former Las Vegas City Council member who has frequently been at odds with Wynn. "It's overwhelming. Either you work for him or he tries to get you out of office."
Considered by many Nevadans to be the most powerful man in the state, Wynn gets roadways rerouted, public transportation projects scuttled and public land deeded over to his company. But he wields his influence not only to expand his company beyond Las Vegas, where it owns four casinos plus a half interest in a fifth, but also to advance the public's acceptance of casinos as he builds palaces so lush that they become must-see stops on America's road map.
FULL STORY
"Like a Good Neighbor…Steve Wynn is There…"
COLUMN: Steve Miller
© Copyright Las Vegas Tribune, Inc.
October 11, 2000
A number of pioneer citizens who choose to remain in their beautiful homes on what was once the Desert Inn golf course are learning the true meaning of "political clout!" Homes that have been sold to Steve Wynn for his planned resort are being intentionally allowed by Clark County officials to deteriorate into attractive nuisances; abandoned structures that attract vagrants. Their swimming pools are green with algae and are breeding disease carrying misquotes. Rats have also been reported, all under the watchful eye of Wynn and the Clark County health and code enforcement authorities that are obediently turning their backs on resident's complaints.
FULL STORY
Observers: Wynn lofty visionary
Tuesday, March 07, 2000
Copyright © Las Vegas Review-Journal
By Trevor Hayes
"His influence over the valley has been extensive, not only the valley but the whole state," said state Sen. Joe Neal, D-North Las Vegas. "He virtually gets what legislation he wants passed regardless of how it affects the state." Neal, long an advocate for higher gaming taxes, thinks this deal will lessen Wynn's political influence. "(Wynn) frightened a lot of politicians with that power," Neal said. "Frankly, I believe MGM will be a better corporate citizen." Former Las Vegas Councilman Steve Miller also hopes Wynn will opt out of politics. "The influence peddling he has displayed in the state of Nevada ... has caused him to fall from favor not only of his fellow Nevadans but observers outside," Steve Miller said. Wynn should be remembered "as a blowhard and a manipulator and a corruptor of politicians," said the former councilman, once the target of a Wynn lawsuit.
FULL STORY
By the skin of my teeth...
Escaping Steve Wynn's legal ax
COLUMN: Steve Miller
© Copyright Las Vegas Tribune, Inc.
August 2, 2000
I was also mysteriously contacted by an investigator for the New Jersey Gaming Control Board who inquired if I had a copy of the report. I replied that I did and he asked me if it had a Control Board time stamp on its cover. It did not. He abruptly ended the call. John and I later speculated that his call indicated that the original report in the New Jersey Gaming Control Board file was probably missing and that the copies we had were probably made from that document. The call also confirmed the authenticity of the document.
FULL STORY
Gaming goes soft
By KEN WARD
Las Vegas CityLife
November 1998
In this context, the National Gambling Impact Study Commission pales as a threat. While the casino industry demonizes the commission as a bunch of right-wing demagogues, Steve Miller has a different view. He offered to take the panel on a guided tour he's dubbed "Las Vegas Behind the Mirage." Sightseeing opportunities include a look at Arizona Charlie's placement between two senior apartment complexes, the casino shuttles that serve HUD-funded housing projects, and the proliferation of neighborhood slot joints. The panel, which comes to town Nov. 10-11, has expressed no interest in a firsthand probe of Las Vegas' seamy underbelly. But it's sure to get an earful from national casino opponent Tom Grey, who will be representing the National Coalition Against Gambling Expansion. Neal, too, will be heard as he joins a panel discussion on local employment issues. Neal's opening came when Wynn stepped down. The casino mogul reportedly was miffed at the addition of Otis Harris, a local businessman who is aligned with Miller's populist crusade against the spread of gaming.
FULL STORY
****