Sunday, August 08, 2004
Copyright © Las Vegas Review-Journal

JOHN L. SMITH: Crazy Horse Too shift manager's luxurious spread likely to intrigue IRS

If you ever doubted whether the topless business was lucrative, look no further than the home of Crazy Horse Too shift manager and reputed mob figure Vinny Faraci. I did and came away impressed. The 4,255-square-foot beauty at 1301 Kingdom St. in the Castle Gate subdivision was recently listed for $980,000 by real estate agent and Metro officer Dave Radcliffe.

URL: http://www.reviewjournal.com/lvrj_home/2004/Aug-08-Sun-2004/news/24485910.html

---------------------------------------------------

Wednesday, August 06, 2003
Copyright © Las Vegas Review-Journal

INTERNAL AFFAIRS PROBE: Sergeant punished over loan

Longtime friend of topless club owner accepted $15,000 to finance venture

The Metropolitan Police Department recently disciplined one of its sergeants after learning he accepted a $15,000 loan from topless club owner Rick Rizzolo, the target of an ongoing federal racketeering probe. Sgt. Tom Keller's debt to Rizzolo, owner of the Crazy Horse Too on Industrial Road, was discovered in February when dozens of FBI agents raided the strip club... The sergeant is not the only longtime friend Rizzolo has had within the Police Department. Former Las Vegas City Councilman Michael McDonald, a Las Vegas police officer when he was elected in 1995, was investigated but never charged in 2000 over his longtime friendship with Rizzolo. McDonald resigned from the Police Department in 1999 and lost his council seat earlier this year.

URL: http://www.reviewjournal.com/lvrj_home/2003/Aug-06-Wed-2003/news/21886517.html

------------------------------------------------

May 26, 1998

By Cathy Scott
LAS VEGAS SUN

The anonymous letter says that McDonald is allowed "to use his position as a police officer" in connection with Rizzolo. "For obvious favors received from Rizzolo, McDonald has his fellow officers target Little Darlings, Club Exotica," the letter says. "McDonald is always at the Crazy Horse on Industrial Road with Rizzolo. He is able to entertain his fellow officers who target the other strip joints."

URL: http://www.lasvegassun.com/news/1998/may/26/mcdonald-under-investigation/

------------------------------------------------------------------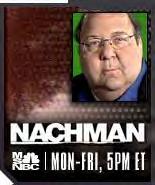 Jerry Nachman is vice president and editor-in-chief of MSNBC, and the host of "Nachman," which airs at 5 p.m. ET, weekdays on MSNBC.
December 26, 2002
MSNBC
GLEN MEEK: You would think. There's some interesting things that have occurred both in this case and some other cases that we're looking at. We know, for example, there's another lawsuit filed against the club alleging that there was brutality by the bouncers, and some of the people who were in that party actually had one of those digital cameras. They took photographs of police on the scene, and, when we went back to try and...
JERRY NACHMAN: Glen, let's...
MEEK: ... find a police report, there was none...
NACHMAN: What's been...
MEEK: ... and, apparently, the police are telling some of these people, hey, you're drunk, you know, do you really want to get into this, are you going to come back and testify, why don't you just go home and forget about it.
URL: http://www.stevemiller4lasvegas.com/NachmanTranscript.html