Show Cause Hearing Requested for Topless Club
© Copyright Las Vegas Tribune
October 10, 2001
By Steve Miller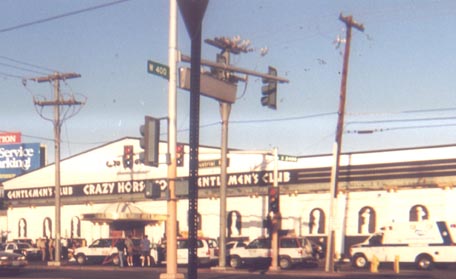 September 20, 2001 – Emergency units in front of topless bar

LAS VEGAS – The Las Vegas Tribune is the first to call for the mayor and councilmembers to bring the Crazy Horse Too topless bar before the City Council for a Show Cause Hearing. The mayor or any member of the council can schedule a Show Cause Hearing when a privileged license holder is suspected of violating city laws or public endangerment.

The Crazy Horse is the holder of a privileged business license, which can be revoked if the bar is found to be a public nuisance.

The Crazy Horse is currently the subject of five lawsuits: one for racketeering; one for wrongful death; and three for the alleged robbery and beating of patrons. The Las Vegas Tribune was the fist to report on the racketeering action brought by the bar's next door neighbor Buffalo Jim Barrier. Frederick Rizzolo, the owner of the bar, was accused of "conspiracy, bribery, pandering, and sales of ilegal drugs" in the RICO lawsuit filed in 1999. On September 14, 2001, Clark County District Court Judge Nancy M. Saitta denied Rizzolo's motion to dismiss the conspiracy/civil RICO action - clearing the way for the case to proceed to trial.

Then, on August 14, Judge Saitta found sufficient evidence to reinstate a wrongful death lawsuit brought by the family of Scott David Fau. Fau was found beaten to death next to railroad tracks behind the Crazy Horse on Aug. 4, 1995. Three witnesses reported seeing Fau being severely beaten by Crazy Horse employees in the parking lot after he was ejected. The case is now scheduled for jury trial March 18, 2002.

Three separate personal injury lawsuits have also been brought against the topless bar.

Attorneys for Kenneth Kirkpatrick and Brian Devlin told the Tribune that their clients were beaten and robbed by Crazy Horse bouncers. Kirkpatrick claims bouncers beat and robbed him earlier this year. Then in an exclusive Las Vegas Tribune story, Kansas resident Kirk Henry claimed that after being robbed on September 20, Crazy Horse bouncers broke his neck leaving him paralyzed on the sidewalk in front of the club.

In the Kirkpatrick case, police submitted complaints to prosecutors in District Attorney Stewart Bell's office who obtained warrants for Crazy Horse Too employees Joseph Melfi, Peter Pachio, Phillip Salemi and Mark Tenzer. The four were charged with robbery, battery and conspiracy to commit robbery and coercion. A preliminary hearing is scheduled Oct. 11 to determine whether there is enough evidence for the case to go to trial.

In the Henry case, police under the direction of Lt. John Alamshaw of Metro's robbery unit, served a search warrant on the bar last Wednesday morning. Personnel records and video surveillance tapes were confiscated from Rizzolo's office. Alamshaw told the Tribune that detectives are investigating the incident as an attempted murder and robbery with substantial bodily harm. Deputy District Attorney Stacy Collins has been placed in charge of prosecuting the case.

Lt. Alamshaw said that Metro is requesting the DA prosecute yet-unnamed employees of the Crazy Horse for the attempted murder of Kirk Henry. Las Vegas attorneys Colby Williams and Donald Campbell are representing Henry who is in the intensive care unit of a Kansas hospital. Doctors have told the Tribune that Henry is expected to remain permanently paralyzed because of his injuries. He is married and the father of two small children.

A number of other eyewitnesses have come forward to file notarized affidavits saying that they witnessed beatings at the nightclub. Witnesses have identified Crazy Horse bouncers Steve Crispy (sp), and Darrin Bray as suspects in the Fau beating death, and bouncer James Stressing was tentatively identified as a participant in the beating of Kirk Henry.

However, in the face of this overwhelming evidence, Albert Rapuano, general manager of the Crazy Horse Too, has a different version of events. He said he cooperated with police and doesn't think any of his employees were involved in the robberies, beatings, or killing.

In addition to the lawsuits, Metro on Friday received three additional complaints of beatings and robberies at the bar. California residents Joel Denney, Mark Bujuklian, and Sean Spanek filed notarized affidavits with Metro claiming to have been beaten up by bouncers in January after they complained about being charged $400 for a bottle of champagne

In 1999, the Tribune exclusively told about favors Councilman Michael McDonald did for Rizzolo. In another exclusive story, the Tribune reported that McDonald lived rent-free in a half-million dollar Canyon Gate villa owned by Bobette Tegano, the mother-in-law of Joey Cusumano - a close associate of Frederick Rizzolo. In November 2000, McDonald referred to Rizzolo as a "Pillar of the community." He made the statement one-month before the City Ethics Commission found him guilty of numerous ethics charges - some which involved his friendship with Rizzolo.

Since that time, the Tribune has learned that Joey Cusamano is suspected to be a silent partner in the Crazy Horse Too. Mayor Oscar Goodman was once Cusumano's criminal defense attorney. Both Goodman and McDonald are expected to recuse in the event that the Crazy Horse is brought before them on a Show Cause Hearing.

In January, Frederick "Rick" Rizzolo filed a libel suit against the Las Vegas Tribune. His attorney, Tony Sgro, then attempted to learn the Tribune's sources causing the newspaper to invoke the Nevada Shield Law to protect their identities. In the face of the libel lawsuit, the Tribune has continued undaunted to report activities at the Crazy Horse. Rizzolo's suit, which is expected to be summarily dismissed, was coincidently assigned to the court of Judge Nancy M. Saitta.

If the lawsuit is allowed to continue, the Tribune plans to take the detailed depositions of Frederick Rizzolo, along with his associates Joey Cusumano, Fred Doumani, Councilman Mike McDonald, Vinny Faraci, Joseph Blasco, Father Dave Casselegio, Rocco Lombardo, and Fred Pascente. Cusumano and Pascente are casino Black Book members. Depositions are a public record and the Tribune will reserve the right to publish the transcripts.

"We can't let our national tragedy distract us from trying to check the terrorism, carnage, and political corruption present in our own back yard," Tribune Editor in Chief Rolando Larraz stated after hearing of Kirk Henry's prognosis of being a quadriplegi. "Las Vegas does not need to be plagued with the horrible image being forced on us by an out-of-control business enterprise."


Larraz pledged that the Las Vegas Tribune "will continue covering events at the Crazy Horse Too until this public nuisance is permanently shut down so that no one else can be injured or killed."

© Copyright 2001, Las Vegas Tribune. All Rights Reserved.