SWEETHEART LAND DEAL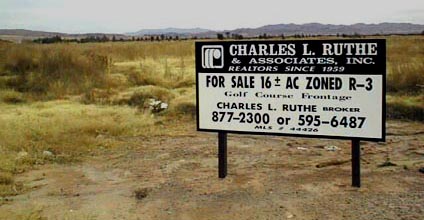 Las Vegas Tribune
January 24,1999
COMMENTARY: Steve Miller

There is a 16-acre parcel of vacant land owned by Billy Walters located on the Southeast corner of East Desert Inn Rd. and Cabana St. that has recently been listed by Chuck Ruthe Realty for $2.1 million, or $130,000per acre. This property is being advertised as "R3 Golf Course Frontage." The parcel is located roughly 1500 feet west of Walters' Royal Links Golf Course property line. To the amazement of many, Mr. Walters bought his leased 160 acres of similar land from the taxpayers for only $5,600 per acre. Councilman Mike McDonald's excuse for voting for the sweetheart deal? He needed the money to build parks.

Though the frontage Chuck Ruthe offers is on the Stallion Golf Course, Stallion is adjoining Walters' course and is also bordering the fences of the City and County Sewer Plants. While there Sunday afternoon, I was not able to detect any unusual odors outside of the sewer plants, though this is one of the reasons given by Mr. Walters for his low-ball offer. There are also a number of single family residences fronting both golf courses that range from well kept mobile homes to $150,000 single family dwellings. The fact that both golf courses are irrigated with treated sewer water does not seem to be a deterrent to nearby homeowners. In fact, all public facilities in the city of Henderson are irrigated by "gray water" with few, if any complaints.

Billy Walters is a golf course developer of high repute. Billy is also known to many to be a close friend of the Mayor and several Councilmen. His name often appears on politician's campaign contribution reports. Maybe this is why Billy was lucky enough to land the deal to develop the old Nature Park into one of his outstanding golf courses -- especially at a time when the city of Las Vegas is suffering from the lowest per-capita ratio of park space to number of citizens in the US. Well, this town is kinda short of golf courses too, so I guess the golfers won out over families in the minds of the Mayor and Council who agreed several years ago to provide Billy Walters the city owned Nature Park land at a bargain basement price. Now a golf course sits there for the enjoyment of tourists.

The difference between the $5,600 per acre that Walters' is offering the citizens for the 160 acres, and what Ruthe is asking for close-by acreage is $124,400 per acre. Why are Walters' 160 publicly owned acres worth so much less at $5,600 per acre than privately owned land just 1500 feet away that is going for the fair market value of $130,000 per acre? Could this be the making of the most obvious "Sweetheart Land Deal" since the Lurie/Hall scandal back in 1990?

Several council members expressed their desire to sell the public's land to Walters at his $5,600 per acre offer. Councilman McDonald even complained about there not being enough parks, and that the Walters money could go toward acquiring more park space in other parts of the city. Ironically, this same councilman is a member of the Convention and Visitor's Authority that is gifting the Fremont Street Experience Limited Liability Corporation $1 million per year in park funds. The Fremont St. Experience is privately owned by a cartel of casino moguls and certainly is not a park to anyone's standards.

Well, this may be business as usual at City Hall, but many don't wish to sit still and watch millions of dollars of publicly owned land transfer into the hands of a politically savvy developer for pennies on the dollar. Even though Mr. Walters claims that the land is "deed restricted" and cannot be developed into anything other that open spaces such as a golf course, I have seen deed restrictions changed at the whim of the property owner. It only takes the filling out of a simple form and a trip to the county Recorder's Office to lift any restriction. Then with the help of a friendly City Council, new zoning can be granted.

Furthermore, the once obnoxious odors emanating from the nearby city and county wastewater treatment plants have been mitigated with expensive high-tech scrubbing devices and roofs over the evaporation ponds. It would not surprise me to see thousands upon thousands of cheap apartments built right up next to the sewer plants in the next ten years.

Remember that this is Las Vegas. Las Vegas recently was named one of the "10 most corrupt cities in America" by George Magazine.

The casinos want more local residents to push the buttons on their machines; the developers want more land to build high density housing near the casinos to satisfy the lust of the casino owners for local customers; and the politicians on our City Council want more perks and bigger campaign contributions from the developers and gamers. This kind of incestuous cycle is what makes this city tick, and it isn't going away soon.
Deal is Done
$5,600 per acre? This is the Sweetheart of Sweetheart deals. Walters testified Monday that he is the owner of the 16 "Golf Course Frontage" acres offered by his buddy Chuck Ruthe for $130,000 acre. These 16 acres are located just 1,500 feet away from the publicly owned land. Another 100 acres just to the east of our land sold for $30,000 per acre last summer. The county assessor appraised Walters' golf course for $20,000 -- $40,000 acre. What a deal at $5,600 acre! Could this be Pay Back Time for the Mayor and 3 Councilmen? Bully for Councilman Arnie Adamsen for voting against the scam!

Incidentally, a deed restriction is only in effect for as long as the filing land owner desires. If the city council wished, they could rescind the restriction at any time and rezone the land to a higher and better use. The Stallion golf course next door is also owned by Walters and is surrounded by big houses and TWO sewer plants. Both courses are watered with gray water. The golfers do not seem to care or they would not golf there. What's the difference? Now the restricted green fee for locals at the Royal Links can be raised to market value.

It was not mentioned at the hearing, but I heard that the council and mayor received -- and ignored -- several hundred protests calls. Lurie and Hall should be proud for having set such an example back in 1990. Now the proceeds from the "deal" can go to parks to make up for the $8 million the Mayor and Councilman McDonald gave to the Fremont St. Experience "Park."

Golf-course developer Billy Walters said he has not yet determined how he will set the rates for play at his new Royal Links Golf Course and has no immediate plans to offer reduced rates for residents.

Walters was relieved of his lease-mandated duty to offer lower rates to locals Monday when the Las Vegas City Council agreed to sell him the 160 acres he's been renting for the golf course, which is nearing completion.

Before the council agreed to the $824,000 sale Monday, by a 4-1 vote, Walters said he would consider offering reduced rates for residents if the city would lower its purchase price.

"If the city wants to change its position and reimburse me the money we've invested in the golf course, we'll drop the rate," Walters said. He said he's invested roughly $17 million so far. ($10,000 / acre - can we have some documentation on that?)

But the council decided that the city price was fair and that it's better to have money in hand than wait 50 years to collect on what could either be a multimillion-dollar cash cow or an aging and practically worthless golf course.

"Using money today to build soccer fields and ball fields is this council's agenda," Councilman Mcdonald said before the vote, which earmarked the money for park and recreation uses.

The proposed sale sparked controversy last week after the city's price was published in news reports. Local golfers contended that Walters was getting a sweetheart deal, and at least one commercial land appraiser said the amount being offered was too small.

After years of odor complaints from county residents living next to the Water Pollution Control Facility, the city bought the land for $780,000 as a buffer zone to soak up the smells.

But the vacant plot drew vandals, litter and vagrants and suffered numerous fires before the city decided in 1997 to ask for 36 proposals to build a golf course on the site.

Only The Walters Group was willing to make the investment and entered into a 50-year lease with the city.

"I thought he was a sucker," Councilman Michael McDonald said. "You're going to develop a golf course next to a stinky sewer plant. God bless you."

Several residents told the council Monday that they disagreed with McDonald's assessment, claiming the land is worth far more than the $5,600 an acre proposed.

After listening to one resident use similar numbers, an angry Jones said: "I know what ex-Councilman Steve Miller thinks is true, and I take exception."

"Land is worth what land is worth," Jones. "You can speculate. Maybe someday this will be worth a lot of money. Maybe it won't."
-------------------------------------------------------



ACTIONS SPEAK LOUDER THAN WORDS
Editorial
Las Vegas Tribune
Feb. 4, 1999
The Las Vegas City Council meeting of January 25, will go down in history as the moment in time when our city fathers and mother voted 4 to 1 to sacrifice 160 acres of publicly owned land for pennies on the dollar to multimillionaire political campaign contributor and developer Billy Walters.
The property in question, a golf course leased by Walters known as Royal Links, was sold by our mayor and 3 of her councilmen for an insignificant $5,600 per acre when adjacent golf course frontage -- also owned by Walters -- is being offered for $130,000 per acre.
Walters' broker on the adjacent frontage is political mover and shaker Chuck Ruthe who stands to make a hefty commission on the adjacent land deal and possible future sales of Walters' properties.
The Clark County Assessor appriased the Royal Links land in 1998 at $40,000 per acre, but said they may devaluate it to $20,000 acre in the future (see RJ article 1/21/99). That is the lowest comparable available. Chuck Ruthe is offering 16 acres of similar land also owned by Walters just 1500 feet away for $130,000 acre (see LV Tribune 1/29/99). If the county appriasal is correct, the 160 acres is worth $3.2 million at the devalued $20,000 acre appraisal, or $6.4 million at the current county appraisal. If Ruthe is correct, the property is worth $20.8 million. Walters got it for $896,000. The total payback from Michael McDonald, and his councilmen friends to Walters is between $2.3 million minimum and $18.9 million maximum.
This appears to be the Sweetheart Deal of the decade and even overshadows the infamous Lurie/Hall Land Deal of 1990 when the former mayor partnered with the city manager to upgrade the zoning of their jointly owned land.
A thinly cloaked excuse for selling the citizen's land to Walters was uttered by Councilman McDonald during the hearing. His excuse was that the land was "deed restricted" and could never be rezoned to a higher and better use other than open spaces. He then went on to say that the paltry $900,000 paid by Walters would go into our city's sadly deficient parks.
The Councilman neglected to mention that he is one of the sponsors of the $1 million per year "Parks" funding gifted annually to the private Fremont Street Experience casinos.
Upon repeated inquiry by a citizen who identified himself as a real estate broker, city attorney Brad Jerbic was forced to clarify the fact that a deed restriction could be rescinded by the party who originally filed the document, in this case the City Council. He neglected to mention that soon after the deed restriction would be removed by the city council, the land could be rezoned to increase its' value twenty-fold.
Based on the fact that the original deed restriction was placed to guarantee that a buffer zone would exist between the city's sewer plant that is adjacent to Royal Links and Stallion Hills and any future residential use, the deed restriction idea once had merit. However, with modern technology and millions of dollars of tax funded investment in modernizing our sewer plants, in 1999 thousands of golfers are able to enjoy Billy Walters' golf courses each year without experiencing the unpleasant odors familiar just a decade ago. In fact, a number of very expensive homes have been built adjacent to Billy Walters' Stallion Hills Golf Course located adjacent to his Royal Links. Even more interesting is the fact that Stallion Hills is situated not next to one, but two sewer plants -- the City of Las Vegas', and Clark County's.
Now with roofs over the formally open-air evaporation ponds and with the recent incorporation of high-tech air scrubbers, in 1999, golfers enjoy their game without even noticing what lies on the other side of the block walls to the east of the fairways of Royal Links and Stallion. And the city sold 160 acres of this valuable land for just $5,600 per acre!
During the council meeting when the land sale occurred, the Mayor cut short the testimony of citizens who wished to speak in protest. In contrast, when her friend Billy Walters stepped forward to speak, Mr Walters was never asked to limit his presentation, and at one point when Mr. Walters asked for a glass of water, our Mayor jumped at the chance to personally pour the water into her own cup and present it to Billy. Illustrated by just that one gesture by Mayor Jan Jones, a thousand words were spoken.
Questions or problems? comments and suggestions.
1999 Las Vegas Tribune, Inc.