The headlines behind Steve: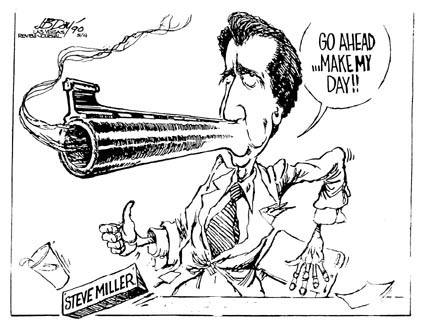 Las Vegas Review Journal editorial cartoon by Jim Day
---

Steve's Published Articles:

---


AmericanMafia.com stories by Steve
---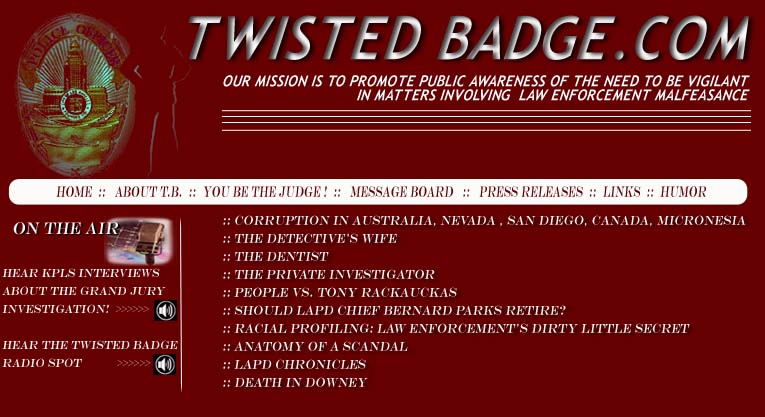 TwistedBadge.com stories by Steve:
---

Commentaries, News Stories, and Editorials written by Steve
---

Steve's Favorite Exposés:

---

Operation G Sting
Steve was the first to report on a story that became the biggest political corruption investigation in the history of Las Vegas.
FIRST STORY PUBLISHED ON THIS SUBJECT
Where the story went from there

---

STEVE WYNN
The Scotland Yard Report

The mystery began in 1993 when the 103 page Scotland Yard Report was delivered to two Las Vegas journalists, John L. Smith, and myself. Its sender was not identified nor was it known why we were the only persons in Las Vegas to receive the document.
Mr. Smith wrote the book, Running Scared: The Life and Treacherous Times of Las Vegas Casino King Steve Wynn, using portions of the information he gathered from the Report. Following the publication of Running Scared, Mr. Smith and his publisher were sued for libel by Wynn who challenged the veracity of most of the information contained in the Report and in Smith's book. Wynn's libel case is currently threading its way through the courts.
I believe that this document is public domain and therefore, for the first time in history, I am making it available. As to its authenticity or accuracy, you must be the judge.

Steve Miller

THE SCOTLAND YARD REPORT

---

The Rick Rizzolo Connection
Various articles commenting on the relationship between local Las Vegas politicians, underworld figures, and Frederick "Rick" Rizzolo, the owner of the Crazy Horse Too topless bar. Mr. Rizzolo's bar, unlike any other in Las Vegas, is the repeated scene of violence while local officials look the other way.
The Rick Rizzolo Connection
Wednesday, July 27, 2005
Copyright © Las Vegas Review-Journal

JOHN L. SMITH: Some strip club owners feel heat while others feed fuel to feds' fire

Friends of Crazy Horse Too owner Rick Rizzolo have risen to his defense following my recent column calling for the closure of his cabaret due to an ongoing criminal investigation and publicized links to organized crime. While they seem shy about using their names, they've reserved special criticism for Rizzolo's most relentless critic, Steve Miller, the former Las Vegas city councilman-turned-Internet crusader. Miller has a conflict of interest, they argue.
The Moncrief Connection
During the 2003 municipal election, an old friend tricked Steve into helping elect a pawn for the mayor and his cronies in organized crime.
After finding out, Steve turned state's evidence.
The Moncrief Connection

---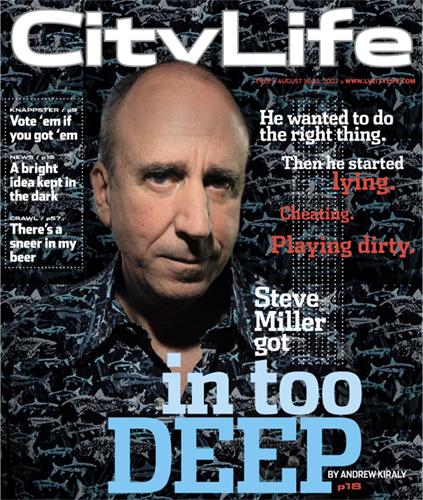 Friday, August 17, 2007

---
Steve is First to Uncover Secret Horseshoe Problems:



New evidence may surface soon in Binion case
COMMENTARY: Steve Miller
Las Vegas Tribune
May 1, 2002
I was also told by the employees that Ted boasted of having "taken care" of then-gubernatorial candidate Jan Jones with a $50,000 campaign contribution to guarantee him getting his gaming license reinstated if she were elected. The employees said it was taken for granted that Becky and Nick were aware of the scheme. Today, this accusation opens up ominous speculation.


"Bob (Stupak) reached into his coat pocket and produced a brown $5,000 Horseshoe chip, and presented it to the Reverend as a donation to an inner-city Chicago youth group. Rev. Grey gladly accepted on behalf of the youth organization, and joked that the chip was the 'Coin of the Realm' in Las Vegas. What happened next is unbelievable!"

The Great Chip Caper
COLUMN: Steve Miller
© Copyright Las Vegas Tribune
May 6,1999


Casino Journal
FEBRUARY 1999

The case of the $5,000 chips
By Bob Shemeligian

During the evening, Stupak invited Grey and Steve Miller, who heads the Nevada Coalition Against Gambling Expansion, to join him and longtime companion Phyllis McGuire for a little Vegas-styled fun and frivolity at the Golden Nugget. The foursome enjoyed dinner, and then over drinks at a casino lounge they all joined in a rendition of "When the Saints Go Marching In."


AS GOOD AS CASH?
"Thursday morning, accompanied by former City Councilman Steve Miller, Grey attempted to exchange the chip for cash and was refused by Horseshoe Sports Book Director Larry Perkins." Grey said, 'All I know is, Bill Bible (former chairman of the state Gaming Control Board) better not tell me about regulation. I just found out a chip is no good.'"
COLUMN:
John L. Smith
Las Vegas Review Journal
November 12, 1998


Binion's chip dispute moves to Gaming Board
"Former City Councilman Steve Miller, who was working with Grey, said in November that the intent of the lawsuit is to show that Nevada's gaming regulatory system is not the model of efficiency being touted by former Gaming Board Chairman Bill Bible."
Las Vegas SUN
May 19, 1999
By Bill Gang


Rev. Grey's chip finally comes in
The infamous chip is cashed at last with Steve's help!


Rev. Tom Grey

LV Sun,
July 14, 1999

"The state Gaming Control Board ordered Behnen to honor the chips in March, but she'd declined to do so until Monday. The board had scheduled a hearing on the issue for today.
Stupak made the offer to Grey to help publicize his efforts to cash in 50 of the Horseshoe's $5,000 chips after the downtown casino refused to honor them. Stupak is sending a $5,000 check to a colleague of the Rev. Tom Grey to fulfill a promise he made to the anti-gaming activist last fall, when the chip dispute erupted, Grey ally Steve Miller said."


COLUMN: Steve Miller
Las Vegas Tribune
August 16, 2000
A $5,000 Horseshoe chip may lead to new evidence in the Binion Case

"One day in November 1998, following Ted's death, Binion friend Bob Stupak tried to cash $250,000 worth of $5,000 chips. Stupak also attempted to retrieve two safe deposit boxes full of cash he had on deposit in the casino's cage. Nick and Becky Behnen unexplainably refused to cash Stupak's chips or return his currency. Stupak loudly protested and was eighty-sixed permanently from the casino. Bob Stupak had at least a half-million dollars in one hundred-dollar bills stored in the Horseshoe's casino cage at the time. The Behnens showed no intention of returning the money."


Bob Stupak assaulted by Binion family member at Piero's Restaurant
© Copyright Las Vegas Tribune, Inc
FRONT PAGE
August 30, 2000
By Steve Miller

Tribune Photo of Bob Stupak demanding that Horseshoe return safe deposit boxes
At 9:23PM, Friday, August 25, Stratosphere Tower developer Bob Stupak dialed 911 on his cell phone to report that Benny Behnen and two unidentified accomplices had attacked and beaten him and his daughter Summer at Piero's restaurant on Convention Center Drive. A second call to 911 was also logged by Metro reporting the same incident.


What lead to the assault on the Stupaks at Piero's?
© Copyright Las Vegas Tribune, Inc
FRONT PAGE
September 6, 2000
By Steve Miller

23 Year old Benny Behnen
"Another of the reported Piero's assailants was Chance LeSeuer who in 1996 attracted police attention when he was linked to a drive-by shooting outside Ted Binion's Palomino Lane home, the same house in which he was found dead Sept. 17, 1998. Although initially charged with attempted murder, LeSueur eventually pleaded guilty to lesser charges. Inexplicably, prior to the alleged assault, Chance LeSeuer was observed dining with Nick, Becky, and Benny Behnen in another part of Piero's restaurant! The reason for the ongoing relationship between the Behnens and the man who allegedly is linked to the 1996 drive-by shooting outside Ted Binion's home is not clear."


Tabish and Murphy tell all
FRONT PAGE
Exclusive to the Las Vegas Tribune
September 6, 2000
By Steve Miller

"She described both Behnens as being intoxicated and engaged in a "screaming match" with Ted. She said that Ted grabbed a shotgun and cocked it saying 'Get the hell out of here.' She said the Behnen's left the property, however Nick Behnen reportedly called Ted later that night from 12 to 15 times on his answering machine to make threatening remarks."


COLUMN: Steve Miller
Las Vegas Tribune
August 6, 2000
Feeling safe in upscale restaurants
"As we settled down for a wonderful meal I began telling my very curious friends about the reason I now avoid Piero's. I told them about an evening in 1998 when I was at Piero's and ended up helping to stop a vicious fistfight while the owner and his staff stood by and watched. Then I told them about the assault upon Bob and Summer Stupak at Piero's on Friday, August 25. Another violent incident that witnesses report was not broken up by restaurant staff, and how the assailants were later welcomed back to party in the bar after the police left."


Las Vegas Tribune EXCLUSIVE
September 13, 2000
The Secret Binion Tapes Surface
Alan Dershowitz joins Murphy/Tabish Defense team
FRONT PAGE
By Steve Miller
Page One Page Four
Page Two Page Five
Page Three* Page Six
Page Seven
*Contanins obscene language
"After being locked in a file at the Nevada Gaming Control Board Enforcement Division for almost two years, the Las Vegas Tribune has received a verified copy of a CONFIDENTIAL INTELLIGENCE REPORT that may shed new light on the death of Ted Binion. This report is so alarming that the Tribune has decided to publish it in its' original form on Gaming Control Board, and LVMPD official forms."


Horseshoe Club in Deep Doo Doo
COMMENTARY: Steve Miller
Las Vegas Tribune
January 9, 2002
This was not the first time Benny Behnen had physically assaulted Bob Stupak. In 1998 Stupak filed a police report against Behnen for another assault and battery incident that occurred at the Horseshoe Casino in downtown Las Vegas. Stupak alleged young Behnen took a swing at him when he tried to cash several Horseshoe $5,000 chips


Las Vegas Tribune
FRONT PAGE
January 10, 2001
HORSESHOE MAY BE IN FINANCIAL TROUBLE
By Steve Miller
One of the landlords who owns the property under the casino told the Las Vegas Tribune that he has not received his rent payments from casino owner Becky Binion-Behnen for over a year. The amount owing is reportedly in excess of one million dollars. It is also reported that other Horseshoe landlords have not received their year 2000 rent payments indicating that the casino may be experiencing cash flow problems.


COMMENTARY: Steve Miller
Las Vegas Tribune August 22, 2001
BAD JUDGE- MENT
Jeff German holding a book signing at the Horseshoe seemed almost natural in light of the tone of his book that makes him sound like a lackey for the Behnens. But judges are another story! Judges are supposed to avoid any appearance of impropriety! I can excuse the lameness of the pretty female anchor for not knowing Fremont Street from Green Valley Parkway, but I am amazed that Judge Bonaventure showed up at that book signing hosted by the Behnens! Only in Las Vegas.


HORSESHOE OWNER MISLED REPORTERS
Las Vegas Tribune was first to report cash flow problems denied by Behnen
Las Vegas Tribune
FRONT PAGE
September 5, 2001
By Steve Miller
On January 10, 2001, the Las Vegas Tribune headline read "Downtown Horseshoe may be in financial trouble." The exclusive story described how the downtown Las Vegas gambling hall was experiencing financial difficulty and not paying its dues to the Fremont Street Experience, LLC, or rent to its landlords for over a year.


Judge, Prosecutors Reveal Prejudices

Las Vegas Tribune
FRONT PAGE
November 7, 2001
By Steve Miller
Several other attorneys who have read the paperback told the Tribune that it was improper for Judge Bonaventure to have signed his name to such a biased and inflammatory book because his signature implied that he was endorsing the validity of the above and other slanderous and unproven sexual allegations that are scattered throughout the pages - allegations that if untrue demonize the defendants who he is about to pass judgment on.


Judge Bonaventure should be sanctioned

Judge signing books on KLAS TV News
EDITORIAL
Las Vegas Tribune
June 12, 2002
Even if Judge Bonaventure claims that he was not aware of the illicit sexual act described on page 284 of "Murder in Sin City," as a long-time member of the judiciary he should have done his due diligence and reviewed the entire content of the paperback before adding his autograph to dozens of copies thereby endorsing the veracity of the book's contents at a promotional event in a casino owned by the sister of the man the Defendants are accused of killing.


JUDGE OFFENDED BY LV TRIBUNE STORY


Fireworks erupt during hearing in Binion case
October 02, 2002
By Kim Smith
LAS VEGAS SUN

Bonaventure also criticized Murphy's attorney, Herb Sachs, for allowing an assistant, John Prendeville, to e-mail at least one media outlet about Tuesday's hearing in the Ted Binion murder case.


Beyond a shadow of a doubt?
COMMENTARY: Steve Miller
Las Vegas Tribune
October 31, 2001
One thing has now become clear in my mind: the Ted Binion "murder" mystery has not been solved "Beyond a shadow of a doubt."
Steve tries to stop the spread of casinos outside Nevada because he knows the harm they cause.


Radio host ordered to halt on-air criticism of Wynn
Las Vegas Review Journal, April 22, 1993
Ken White
"I consider him a coward and a hoodlum,"-- Steve Miller (Wynn publicly blamed Steve for spoiling his plans to build casinos in Connecticut and Illnois.....and Steve joined with Rev. Tom Grey and proudly became a leader in the drive to stop the spread of gambling outside Nevada.)

"He said a man from the Federal Communications Commission made a surprise inspection of the station Friday. Feldman confirmed that the Mirage has hired an attorney for advice on the FCC, but that the inspection was not instigated by Wynn."
(To avoid the costly threatened lawsuit, Steve agreed to cancel his radio programs in Nevada, and Conn., but refused to be silenced! He soon formed the Nevada Coalition Against Gambling Expansion and became known nationally for his stand against casinos outside Nevada.)


Electric Nevada
Wynn and the First Amendment
By Steve Miller,
former Las Vegas City Councilman
Hilary Waldman of the Hartford Courant and Anna Verzi of the Bridgeport Post flew to town to interview me, as did a CBS TV news crew from Chicago. I was amazed at what these reporters told he had said regarding my radio program and its supposed effect on his extra-Nevada plans!


Feds launch new study of gaming
"GAO auditors to head to LV"
Las Vegas Sun
Front Page
July 20,1999
By David Strow
"The (Las Vegas) community is just begging for help right now," Miller, a former city councilman, said. "The quality of life is diminishing in this area while corporate profits are increasing. If Congressman Wolf found that as a reason for inspiring this study, it was because I supplied it to him."
"Steve Miller said he believes his connections with Wolf and commission Chairwoman Kay Cole James helped inspire the GAO audit. Miller says the gaming industry hasn't been contributing its fair share of funds to help with pressing needs in Las Vegas including problems with education, poverty, crime and traffic. 'We're in a position where we need to tap our own resources, but aren't able to, because leaders of our state are so subservient to the casino industry that supplies them with outrageous amounts of funding.'"


GAO planning gambling audit

Las Vegas Business Press / July 26, 1999

"The U.S. General Accounting Office (GAO) is planning an audit of the Nevada Gambling Industry at the request of ardent industry foe, Rep. Frank Wolf, R--Va., according to the Nevada Coalition Against Gambling Expansion. The Coalition, led by former Las Vegas City Councilman Steve Miller, says it helped heighten the GAO's interest in the subject and says the focus of the audit is expected to center on 'the industry's growing political influence in and outside of Nevada,' taxation and quality of life issues."


Nevada State Senator Joe Neal may paint unflattering picture of Las Vegas on fed panel
"Today, Wynn must be even angrier knowing that Neal unofficially has been selected to replace him as a panelist at next week's high-profile National Gambling Impact Study Commission meeting in Las Vegas.Neal's selection was pushed by former City Councilman Steve Miller, the eyes and ears in Nevada for the Rev. Tom Grey, the industry's most outspoken national critic. In hindsight, Wynn must be wondering if he should have found a way to rework his schedule to accommodate the commission."
COLUMNIST: Jeff German
Las Vegas Sun
November 3, 1998
"'We may not be politically correct,' Miller says. 'That's not our intent. Our intent is simply to tell the truth and hopefully slow down or curtail competition to our state's only industry outside our borders.'"


Gaming goes soft
By KEN WARD
Las Vegas CityLife
November 1998
"He (Steve Miller) offered to take the panel on a guided tour he's dubbed'Las Vegas Behind the mirage.' Sightseeing opportunities include a look at Arizona Charlie's placement between two senior apartment complexes, the casino shuttles that serve HUD-funded housing projects, and the proliferation of neighborhood slot joints."
"But it's (the National Gambling Impact Study Commission) sure to get an earful from national casino opponent Tom Grey, who will be representing the National Coalition Against Gambling Expansion. (Senator Joe) Neal, too, will be heard as he joins a panel discussion on local employment issues. Neal's opening came when Wynn stepped down.The casino mogul reportedly was miffed at the addition of Otis Harris, a local businessman who is aligned with Miller's populist crusade against the spread of gaming."


When gambling critics say `boo,' the gaming industry quivers
Las Vegas Review Journal Sunday, November 8,1998
COLUMN: John L. Smith
"Depending on which side of the issue you're on, Miller is either a brave revolutionary or a loud-mouthed anarchist. Steve Miller counters that he's all for legalized gambling -- as long as it remains inside the Nevada state line"


Ex-city councilman to take anti-gaming side in TV discussion
COLUMN: John L. Smith
Las Vegas Review Journal
Friday, July 04, 1997
"Oddly enough, for years Miller has repeatedly said he is not against gaming in Nevada. He is, however, critical of its spread across the nation. You can bet the casino industry will be watching closely."


Corporate isolationism vs.expansionism
"Miller thinks local casino companies should plow their profits back into the local economy, not invest it in developing other out-of-state markets that eventually could compete with Las Vegas for tourists. If they do, they should pay the same (and higher) gross gaming revenue taxes here that they have to pay in Biloxi, Atlantic City and Kansas City."
"Alex Yemenidjian, president and COO of MGM Grand Inc., the parent corporation for MGM Grand Detroit, calls Miller's arguments unrealistic and 'childish.'"

Jeff Schweers / Las Vegas Business Press / February 1, 1999


British Coalition Against Gambling Expansion
All That Glitters Ö
17/04/02
George magazine named Las Vegas "One of the 10 Most Corrupt Cities in America," due to the frequent use of eminent domain to help the casino companies. "This is government for the casinos, of the casinos, and by the casinos--and the citizens be damned," said former city council member Steve Miller. Former deputy attorney general Chuck Gardner said, "This is an extreme example of a company town. I donít know if there has ever been a situation with so much power concentrated in one industry. It is government gone berserk."
A Las Vegas Sun survey found that six of the 10 individuals voted the most influential Nevadans have direct ties to the casino industry.
Former LV Mayor Jan Jones helped develop casinos in Detroit, and Steve stepped in...


Las Vegas mayor advises Detroit to put funds
in city
By Phil Linsalata / The Detroit News
Friday, March 14, 1997
"Las Vegas Mayor Jan Jones came to Detroit Thursday with words of encouragement and caution for Detroit officials as they consider the future of casinos in the city. 'You have all of the capacity to become a world-class city.' 'You need hotel rooms and an entertainment environment,' she said. 'Gaming is only a part of that.'"
"Detroit had been considering applications for casinos from four companies, including Circus Circus Enterprises and Mirage Resorts -- both of which Jones owned stock in." LV Sun, April 26, 1999
...And she tried it again in California...


"' The company looks for strategic opportunities, and we think California is a great market,' said Jan Jones, the former mayor of Las Vegas, who is now a Harrah's senior vice president."
"The risk to stockholders of gaming companies entering the California market is minimal, she noted, compared with decisions to build $1-billion casinos in Las Vegas." -- Former Las Vegas Mayor Jan Jones
Some Nevada Casinos Could Be Big Losers
Los Angeles Times
Wednesday,
February 23, 2000


Las Vegas SUN
June 11, 2000
Columnist Jon Ralston:
Missed opportunity for gaming
"Jones also believes that her company's investments in California tribal gaming, as well as those of others, will have absolutely no effect on the state economy."
More of Steve's opinions:


COLUMN: Steve Miller
Las Vegas Tribune
January 14, 2001
A TALE OF TWO MAYORS
Mayor Oscar B. Goodman is everything his predecessor was not. She was completely self-serving, Oscar is selfless. Jones was disloyal, Oscar is loyal to a fault. Jones was constantly seeking higher office, Oscar is content being the "Happiest Mayor in the World."


The Donner Party Syndrome
"What bothers Miller is what he sees as cannibalization of local businesses and families, what he calls the Donner Party Syndrome. `The industry is preying upon the locals, planting casinos right into neighborhoods.' he said."
By Jeff Schweers / Las Vegas Business Press / February 1, 1999
National Media


Los Angeles Times
Monday,
July 8, 1991
By: Elizabeth Venant
A WHOLE NEW IMAGE
Steve Miller was someone a lot of powerful people loved to hate. It was Miller who brought down former Mayor Ron Lurie and the city manager; Miller who proposed opening competition to the sole cable television network in town, operated by Brian Greenspun, who owns the newspaper, the Las Vegas Sun. And it was Miller who attempted to halt expansion of Arizona Charlie's Hotel and Casino into the suburbs, running afoul of the Becker family, influential hotel and real estate developers.


The Los Angeles Times
May 6, 1991
By KEVIN RODERICK
Las Vegas' Thirst for Water Upsets Many in Arid West Development: Boom town plans 1,000-mile pipeline. Critics say the city should live within its means.
For the first time, top candidates for mayor in this week's election are saying the wasteful Las Vegas lifestyle is dated. A ban on artificial lakes proved so popular that one candidate, Councilman Steve Miller, is running radio ads taking credit.


GEORGE MAGAZINE
March 1998
Special Report:
BY CRAIG OFFMAN
THE 10 MOST CORRUPT CITIES
IN AMERICA...

"THIS IS GOVERNMENT FOR THE CASINOS, OF THE CASINOS, AND BY THE CASINOSó AND THE
CITIZENS BE DAMMED."
Former Las Vegas City Councilman
Steve Miller



New York Times
Sunday, December 6, 1998
Front Page
By Brett Pulley
A GAMBLING IMPRESARIO LEAVES LITTLE TO CHANCE
"Steve Wynn's control over politicians is all-encompassing," said Steve Miller, a former Las Vegas City Council member who has frequently been at odds with Wynn. "It's overwhelming. Either you work for him or he tries to get you out of office."


The Dallas Morning News
Front page
October 25,1998
By Paul Pringle / West Coast Bureau of The Dallas Morning News
VEGAS CASINOS FACING DICEY DAYS
"The casinos say they have a social conscience, but they don't," Mr. Harris said as Steve Miller drove the van past one derelict house after another, their lots choked with weeds and litter. "Look at this. Now the casinos are moving into places like Detroit and Mississippi," Miller added. "It's treason." Mr. Harris, a bishop in the local Mormon church, nodded.
"They say they're going to redevelop those places, when they haven't done that in Las Vegas," Miller said.


Los Angeles Times
Sunday, August 8, 1999
By Julie Tamaki
VEGAS UNSTRIPPED
"Longtime Vegas resident and former City Councilman Steve Miller says that the rapid rate of growth has led to a tremendous disparity between the rich and poor. Miller blames developers for leapfrogging past empty lots in older sections of town in favor of building new homes in more desirable suburban neighborhoods."

---

LA Times photo of The Miller's in front of their Las Vegas home
Meanwhile, back home...corruption continues running rampant at City Hall:



Las Vegas Casino News
May 3, 1992
"Then...defying the age-old adage you can't fight City Hall...Steve Miller and co-host Russ Driver on the Open Line talk show brought the mayor to her knees. While monitoring a city council hearing, Miller caught the mayor saying, "I'm sick of them," minutes before the protesting Cavarettas were to appear on behalf of a petition to change the name "Lurie Family Park." Miller taped the remarks and played them constantly on his Open Line Talk Show. Response from the public was overwhelming. Even that staid pillar of the establishment - the Review Journal - took the mayor to task. The bewildered mayor found herself a guest on Miller's show, haltingly trying to explain her position...a position that lost credibility when a note in her handwriting was produced, describing someone as a "bitch." Most observers reached the conclusion she was referring to Lisa Cavaretta."


Mayor Jones' Sweetheart Land Deal

...

Politically connected developer sells "Golf Course Frontage" at $130,000 ac. while buying adjacent city land for $5,600 ac.
COLUMN: Steve Miller
Las Vegas Tribune
January 24, 1999

Steve exposes another City Hall land scam!

"There is a 16-acre parcel of vacant land owned by Billy Walters located on the Southeast corner of East Desert Inn Rd. and Cabana St. that has recently been listed by Chuck Ruthe Realty for $2.1 million, or $130,000 per acre. This property is being advertised as "R3 Golf Course frontage." The parcel is located roughly 1500 feet west of Walters' Royal Links Golf Course property line. To the amazement of many, Mr. Walters bought his leased 160 acres of similar land from the taxpayers for only $5,600 per acre."


Golf course sale sparks early
mayoral politics
"That price ($5,600 per acre) outraged Miller, who noted that the county assessor had appraised the property for five times that amount and that nearby tracts are being marketed at up to $130,000 an acre."
KEN WARD / Las Vegas Business Press February 1, 1999


POLITICAL PUNCHOUT
Las Vegas Boulevard
John L. Smith
LV Review Journal
Jan. 8,1999
"Steve Miller continues to infuriate and rattle Mayor Jan Jones and some members of the City Council with his campaign against the sale of 160 acres of real estate to golf course developer Billy Walters. Although some segments of the media are fond of painting Miller as a bitter gadfly, his ability to read public sentiment should not be underestimated."


Council OKs strip club expansion
"Despite accusations and one abstention,
Crazy Horse Too receives approval for an already completed addition."

...

Club was allowed to expand without required parking and traffic studies.
LV Review Journal
February 9,1999
By Mike Zapler

Steve exposes yet another City Hall scam!

"Jones said controversy about expansion was fanned by former City Councilman Steve Miller, a relentless foe of the mayor's. During the meeting, she produced a recent issue of the Las Vegas Tribune, which featured a front page story penned by Miller on the Crazy Horse Too expansion."


Political uprising - Councilman surprises
critics
"But critics continue to question McDonald's close association with people who do business with the city, his country club lifestyle and the exclusive club memberships that belie his middle-class salary. Real estate agents told the Sun that the (country club) home is likely valued at about $500,000 today and that lease payments could run $2,200 a month. McDonald refuses to disclose his lease payments, except to say 'I pay my share.' "
"It makes me wonder how he can afford to live in Canyon Gate and how he can support his aging parents," said former City Councilman Steve Miller who was defeated by McDonald in the spring election. "It makes me wonder how he can afford memberships in the exclusive House of Blues Foundation (Room) Club."
Las Vegas Sun
Sept. 19, 1999
By Erin Neff
"ETHICS"...NEVADA STYLE!
Steve was the author and sponser of the City of Las Vegas Ethics in Government Law. For that reason, Steve requested the "Opinion" of the state Ethics Commission on sacred cows that he felt were abusing the system -- and All Hell broke lose!


Ethics panel to Jones: Talk with husband
"Responding to a complaint by former City Councilman Steve Miller, the commission is investigating possible ethical violations regarding the mayor's conduct before the vote."
LV Review Journal
July 30, 1998
By Mike Zapler
"But commissioners struggled to understand the couple's dealings -- and whether it is possible, as the mayor contends, that they did not discuss in detail a multimillion dollar land deal that Jones failed to disclose before a key Las Vegas City Council vote in May."



Jones no stranger to ethics disputes
By Jane Ann Morrison
Review-Journal
Monday, August 03, 1998
The commissioners will probe the complex financial relationships between Jones, her husband Richard Schuetz, and casino executive William Boyd and others. The panel also will question whether she should have disclosed those ties before she voted against a proposed restaurant Boyd opposed. Jones cast her no vote a few days after asking Boyd for a campaign contribution and after her husband had received financing from Boyd for a land purchase.


Danger for Jones, panel
COLUMN: Jon Ralston
LV Review Journal
July 26,1998
"The state Ethics Commission's decision to preside over a public airing of a controversy enmeshing Las Vegas Mayor Jan Jones and the rest of the City Council reverberates with ominous overtones."
"For Steve Miller, who lost to Jones in the 1991 mayoral contest and has pursued her with a Javert-like zeal ever since, to be the agent of her political demise would be too sweet for him and too bitter a pill for Her Honor to swallow."
(Jones was later "excused" of her ethical transgressions -- but lost the Governor's race and dropped out of the Mayor's race.)
Even though Steve's complaints resulted in full hearings, he was "fined" for filing and talking about them. The "fine" was found to be unconstitutional.


Miller criticizes timing of ethics complaint
Las Vegas Sun
April 26,1999
By Erin Neff
"In a fiery letter to Boetsch, Miller wrote, 'I will place your stupid 'opinion' in the closest appropriate receptacle and pull the handle.' He has repeatedly vowed not to pay the fine."
(It was discovered that the ethics Chairwoman was judging the ethics of others and rendering fines while serving a D.U.I. sentence.)
"Miller's fine stems from a complaint he filed against Jones regarding a March 1997 speech she gave in Detroit touting the benefits of gaming. Detroit had been considering applications for casinos from four companies, including Circus Circus Enterprises and Mirage Resorts -- both of which Jones owned stock in."

Read Steve's reply to "Ethics" Chairwoman's "Opinion."
Read the Chairwoman's D.U.I. Arrest Report.


Reno man says he won't pay fine
LV Sun,
July 19, 1999
SUN CAPITAL BUREAU
"Sam Dehne told the Commission Friday its decision to fine him was "ridiculous and perverted," and later told a reporter he would not pay the penalty because it would be a partial admission that he committed a wrong."
"Dehne joins others who have not paid the fines imposed by the commission for filing vexatious complaints. They include former Las Vegas City Councilman Steve Miller, who was fined $2,500 for his complaints against former Mayor Jan Laverty Jones."


Civic activism can be an expensive enterprise
Las Vegas CityLife
September 30, 1999
By: Scott Keesler
"Is there any wonder that a request for an opinion on the Silver State Disposal contract manipulation has not yet been filed? I don't have an extra $5,000 laying around, do you?"
"Ask activists Steve Miller and Sam Dehne about the costs of activism. By statute, anyone may "request an opinion" from the state Commission on Ethics regarding the actions of an elected or appointed official. Both Miller and Dehne exercised this statutory right. Results? Miller was fined $2,500and Dehne was fined $5,000."
BOTH MEN HAVE REFUSED TO PAY THE BOGUS FINES.
Steve exposed Boetsch's DUI conviction, then demanded her replacement.She refused reapointment at the end of her term.


Nevada Ethics Commission is intoxicated with their power
COLUMN: Steve Miller
Sparks Daily Tribune
Sunday, December 5, 1999
"It all started when I requested the Nevada Ethics Commission's "opinion" about former Las Vegas Mayor Jan Jones misusing her Mayoral title to promote competitive-to-Nevada casinos in Detroit while not disclosing that two companies she held stock in -- Mirage and Circus Circus -- were actively bidding for licenses in Detroit at the same time as her visit."
Much fuss for requesting "Opinions" from the state Ethics Commission about a few sacred cows...but Steve persists and files another complaint...this time the commission has a new chairman.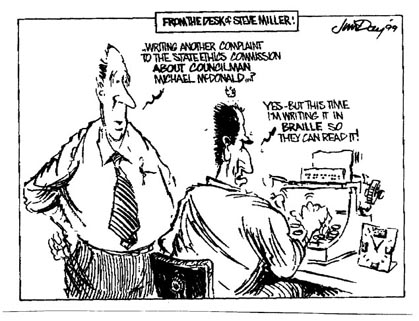 Las Vegas Review Journal

edtitorial cartoon by Jim Day
CLICK HERE FOR MORE INFORMATION

---
The ACLU comes to the rescue!



Judge won't gag newspaper
By Kim Smith
November 14, 2001
LAS VEGAS SUN
Christopher Rasmussen, who represents the Tribune, said issuing a gag order would set a dangerous precedent. Anyone who didn't like what a journalist had to say could simply ask for a gag order to prevent him from continuing to write about a particular topic, he said.


FIRST AMENDMENT: Judge won't gag newspaper
Wednesday, November 14, 2001
Copyright © Las Vegas Review-Journal
By CARRI GEER THEVENOT
Review-Journal editor Thomas Mitchell attended the hearing with Mark Hinueber, general counsel for the Donrey Media Group, which operates the daily newspaper. Also observing the proceedings were Gary Peck, executive director of the American Civil Liberties Union of Nevada, and ACLU attorney Allen Lichtenstein. "As the ACLU, we are clearly concerned about any restrictions on the press to report on any judicial proceeding," Lichtenstein said after the hearing. "That is such a fundamental concern that this was a case that's important to us."


The canard of 'tainted' juries
Sunday, November 18, 2001
Copyright © Las Vegas Review-Journal
COLUMN: Thomas Mitchell
Sgro wanted to eject the columnist from the pool by using prior restraint. The U.S. Supreme Court refused to wield this Constitution-bashing hammer to stop publication of the classified Pentagon Papers, but Judge Saitta was expected to do so for the sake of the reputation of a topless club owner?


Justice, and the First Amendment
EDITORIAL
Las Vegas Tribune
November 21, 2001
We believe it was an insult to the intelligence of Judge Saitta when Rizzolo's attorney, Tony Sgro, used the premise that his only concern was our newspaper "prejudicing the jury" in a libel trial that is not even scheduled. Remember, it took ten years for Steve Miller to bring his libel action before a jury. Mr. Rizzolo is facing at least THREE personal injury jury trials in the near future, all of which should be of much greater concern to him than his far-fetched libel action.


LV City Council incumbents won fund-raising contests
"Michael McDonald spent one-third of his finances on consultants."
August 18, 1999
Copyright © Las Vegas Review-Journal
By Jane Ann Morrison
"McDonald, who won in the May 4 primary by
taking 63 percent of the vote in a five-person race, ended with a surplus of $59,000 after spending $449,491 for the Ward 1 seat. His closest challenger was former City Councilman Steve Miller, who spent $23,000 and won 23 percent of the vote."


Tuesday, April 15, 1997
The dumbing of Las Vegas
Long-time citizens suffering insult after insult
By Steve Miller
Special to the Review-Journal
"The quality of life for the enduring residents of this town is going to hell in a handbasket, and we are being asked to pay for the privilege. Uninformed newcomers are responding blindly to the expensive political TV ad campaigns paid for by the casinos and developers. The sheer mass of the newcomer voters has overpowered the common-sense effect of those who have lived here long enough to know better."
A national tragedy occurs and Steve is asked his professional opinion as to the cause:


The Graveyard Spiral
"I predict that the National Transportation Safety Board will have no other choice than to conclude that this horrible accident was caused by pilot error, and was therefore fully preventable."
COLUMN: Steve Miller
© Copyright Las Vegas Tribune
July 26,1999
Comments on the cause of the Kennedy accident


Airport safety
"I suggest that the FAA relocate its Flight Standards District Office from its present off-airport business park location on Warm Springs Road to the North Las Vegas Airport, where it is most needed."
OPINION: Steve Miller
September 06, 1999
Copyright © Las Vegas Review-Journal

LETTER: LV Sun
September 07, 1999


The possible last moments of Egypt Air Flight 990
COLUMN: Steve Miller
Daily Sparks Tribune
November 22, 1999
"I only now truly understand what may have really happened to me in light of the Egypt Air tragedy and the similarities between the two men involved. Maybe the man in my story was the same guy as did-in Egypt Air nineteen years later? Just think what a public service I would have accomplished if I had not reacted so quickly in 1980! If it somehow was the same person, he would have taken only four lives in place of the 287 souls lost over the Atlantic!"
On to happier subjects: Oh well!


LV implodes its history
"The competition created by the casinos is just too great to overcome for mom and pop to stay in business in the Las Vegas of the 1990ís. Many other cities throughout the US are about to experience the same fate as gambling continues to expand outside Nevada. It seems that we are too engrossed in imploding our history to remember what made our town what it is today."
Las Vegas Weekly
October 7-13, 1999
By Steve Miller
"Without flinching I groped through my other pockets for my illusive wallet. I then came to the horrible realization that I had left it at home! What is a sixteen-year-old man-about-town to do in such a situation? Joe looked me up and down, pulled a pen from his vest pocket, ordered me to sign the bill along with my address and phone number and tersely said 'total it up and donít forget the tip!' He then announced 'Young man, you now have a charge account at the Golden Steer!' "
Steve goes to bat for his friends...


MINUTES OF THE ASSEMBLY COMMITTEE ON TRANSPORTATION
Sixty-eighth Session
May 25, 1995
Mr. Steve Miller, Consultant, United Steelworkers of America, Local 711A,
presented the Taxi Driver Protection Act . He discussed proposals requiring a state-of-the-art system to be installed in every taxicab. The surveillance system would be installed within several feet of the passengers and the drivers. It would provide close ups of the passengers and drivers and would be activated when the door, either front passenger or rear, opened or closed for a period of thirty seconds. All entries and exits would be recorded.


Activist urges neighbors to carry arms

Meadows Village resident fed up with crime
July 29, 2002
By Mary Manning
LAS VEGAS SUN
Chris Christoff is so upset about rising crime in his neighborhood he is distributing thousands of leaflets in the next two weeks urging residents of the troubled area west of the Stratosphere to arm themselves.


About Sam Dehné [Lt Col, USAF (Ret)]

By Brendan Trainor
Does this Reno man's description sound Familiar?
"So for now a retired airline pilot who attends every meeting cannot get appointed to the Airport Authority Board. He is marginalized and dismissed as a crank. He is fined by the Ethics Commission for 'frivolous' charges against the Mayor and his City Council. He is loud, he sometimes plays a guitar at council meetings, he sometimes extends his criticism past his core issues to less objectionable areas. But Sam is a citizen of vision. He calls the mayor corrupt. The Mayor calls him insane. Who is the real fool in this medieval morality play?"


Tuesday, March 07, 2000
Copyright © Las Vegas Review-Journal
FRONT PAGE
Observers: Wynn lofty visionary
A gaming titan bought out by a rival will give up the hotels he built, but his mark on the valley lingers.
By Trevor Hayes
"Former Las Vegas Councilman Steve Miller also hopes Wynn will opt out of politics. 'The influence peddling he has displayed in the state of Nevada ... has caused him to fall from favor not only of his fellow Nevadans but observers outside,' Steve Miller said. Wynn should be remembered 'as a blowhard and a manipulator and a corruptor of politicians,' said the former councilman, once the target of a Wynn lawsuit."
More to come...

If you would like to receive Steve's E-briefs,
click here: mailto:Stevemiller4lv@aol.com?Subject=Add

Steve's Biography
back to Home page
e-mail:
Other suggested links:
Nevada Index
RenoCitizen.com
Reporters Committee for Freedom of the Press
Nevada Observer
Twisted Badge
American Mafia.com
Casinos Out of Politics C.O.P.
Cathy Scott, member of The Authors Guild and the Society of Professional Journalists