Steve Miller behind the headlines: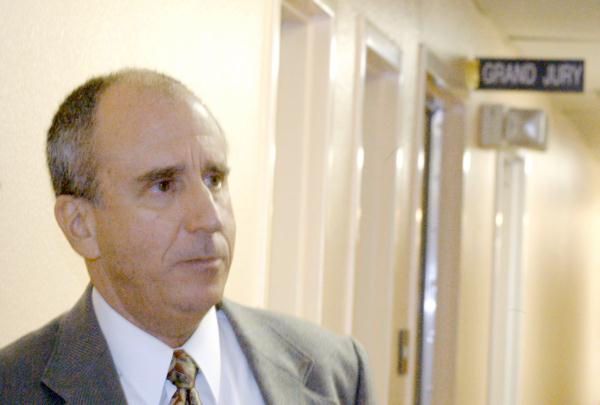 August 06, 2004
Steve waiting to testify before the Grand Jury
MATTHEW MINARD / LAS VEGAS SUN
****

Steve has had a widely varied career. In recent years, he has become a nationally recognized writer. Steve is also a columnist for several on-line magazines including Rick Porrello's AmericanMafia.com, and the Canada Free Press. His works are featured in magazines, newspapers, and news websites throughout the U.S. and Europe. He has background as a rock concert producer; TV personality; national radio talk show host; and a political pollster during the 1996 New Hampshire Presidential Primary. In the 1980s and early 1990s, he served as a Las Vegas City Councilman, and Clark County Regional Transportation Commissioner. Steve has an airline pilot's license and, in the 1980s, owned Nevada's largest flight school located at McCarran International Airport. He worked as a production and news photographer for KLAS TV Channel 8, and cinematographer for Columbia Pictures Industrial Film Division. When Mr. Miller was 19 years old, he built and operated the Teenbeat Club teenage night club with Keith Austin and co-hosted the Teenbeat Club Television Program sponsored by Pepsi Cola. The highly rated show aired in prime time, 5 - 6 PM, each Saturday from 1962 through 1966 on KLAS TV in Las Vegas. In 1998, Steve was inducted into the Nevada Broadcasters Hall of Fame. Steve's interviews of legendary Rock and Roll artists are featured on the nationally syndicated radio program The Rock Files. In May, 2011, Steve and his former business partner Keith Austin were inducted into the Las Vegas Rock and Roll Hall of Fame. In the 1970's, Steve was the sales manager of his father's Las Vegas souvenir manufacturing business Miller Novelty Company. During that time, he invented the icon of Las Vegas souvenirs, the Casino Dice Clock. Steve is often invited to lecture in political science, public policy, and journalism classes at UNLV and the College of Southern Nevada.
---
The early years:

---
Steve's first honor came when he was selected from hundreds of his classmates at Las Vegas High School to be a finalist in the 1961 Sun Youth Forum



The Sun Youth Forum was established by Las Vegas Sun founder and publisher Hank Greenspun. At the end of the sessions, each discussion group selects a finalist to represent the group's findings in columns written for the Las Vegas Sun. Steve spoke and wrote about the need for social activities for Las Vegas teenagers. Hank Greenspun later became the producer of the Teenbeat Club show which aired for 4 years on his television station KLAS TV.
---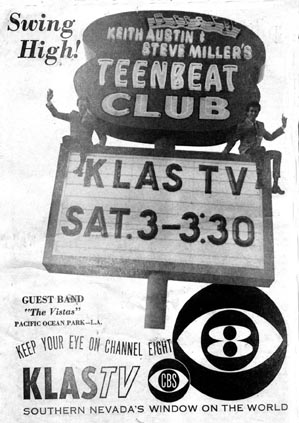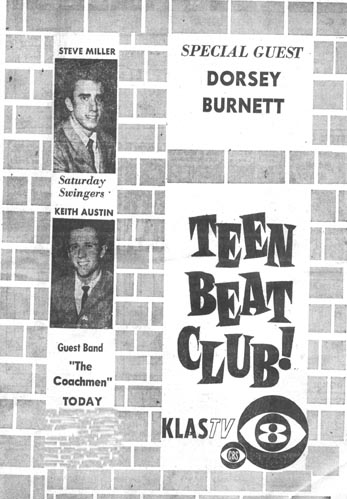 Advertisments in Las Vegas Sun TV section, 1964

---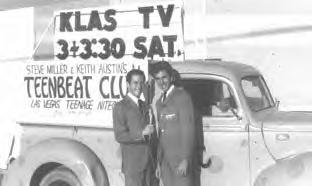 Keith and Steve show off their 1940 Ford pickup during TV show

---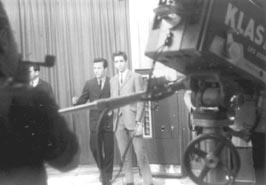 Steve and Keith host one of their first TV shows in February, 1962

---
YouTube videos from Teenbeat Club Television Show
---

The Teenbeat Club Television Show was produced by

Las Vegas SUN

publisher and

KLAS TV

owner Hank Greenspun and his station manager Phil Berle (Milton's brother). The program was directed by Dennis Hunt. The first several shows sponsored by Coca Cola were only one-half hour long but soon were expanded to one hour and rescheduled to prime time after Pepsi took over as the show's sponsor.

---

Here's Steve's YouTube channel including a Channel 3 News story by Tom Hawley and several unauthorized Pepsi commercials used on the Teenbeat Club TV Show on KLAS TV in the 1960's.
http://www.youtube.com/user/SteveMiller4LV

The Teenbeat Club TV program aired live from 1962 through 1966 on KLAS TV Channel 8 in Las Vegas. A new 16 mm Pepsi commercial was filmed for each week's program. During the four years the show aired every Saturday from 5 - 6 PM, it had the largest local viewing audience for that time slot. However, the sponsor and TV station objected to 19 year old Steve and Keith's home made commercials, and the show was canceled at least ten times during its four year run. And because the boys refused to obtain clearances to make the films, they faced arrest on several occasions when they started bonfires, trespassed, or obstructed traffic to do their filming. Because of its large audience, Pepsi and Channel 8 reluctantly allowed Steve and Keith to return to the air in exchange for their agreement to cease and desist producing any more home made commercials. Steve and Keith defied their sponsor and station's orders and continued filming their popular commercials until Pepsi and Channel 8 pulled the plug on the show in 1966. To this day, the present owners of KLAS TV will not acknowledge that the Teenbeat Club show ever appeared on their station.
HERE ARE THE UNAUTHORIZED PEPSI ADS: http://www.youtube.com/user/SteveMiller4LV

---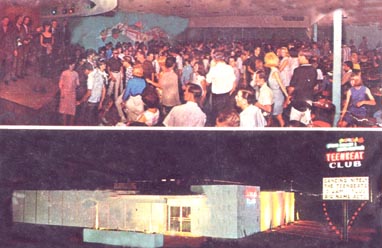 Steve and Keith's Teenbeat Club, 4416 Paradise Rd., featured the
Teenbeats and other top recording bands from 1964 - 1968.
The site, still owned by Steve's family, is located directly across from
the Hard Rock Hotel and is the location of Club Paradise.

---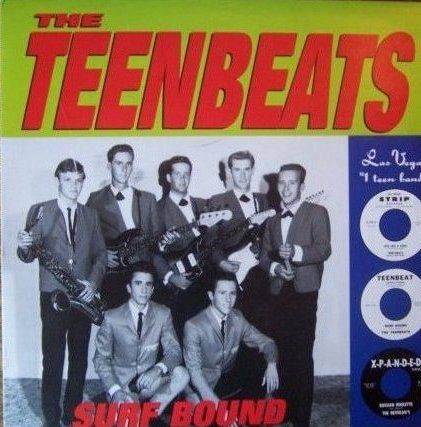 L. to R. (standing) Jim Logue, Lyle Smith, Larry Chernoff, Don Frassa, Gary Care, (kneeling) Steve and Keith on cover of album re-released in 1998.
Listed in record catalogue as: "TEENBEATS - SURF BOUND Mr. Moto/ Russian Roulette/ Rawhide/
Stalkin'/ Teenbeat Theme/ Slinky/ The Girl Can't Help It/ Whole Lotta Shakin'/ Lullaby Of The Leaves/New Orleans/Caterpillar Crawl/Teenbeat Dance Jingle/Live Like A King/Surf Bound/Mystified/High Roller/Teenbeats' Coke Jingle/One Armed Bandit/A Big Howdy From Dick & Dee Dee/Johnny B.Goode/Tequila. First ever collection on Las Vegas' all-time numero uno rock n' roll combo includin' rare 45's, unissued studio whomps, boss KENO radio ads and killer live 1962 radio broadcasts! Rips royally!
LP $8. If you want an authentic taste of JFK-era teenage USA, this album takes you right there."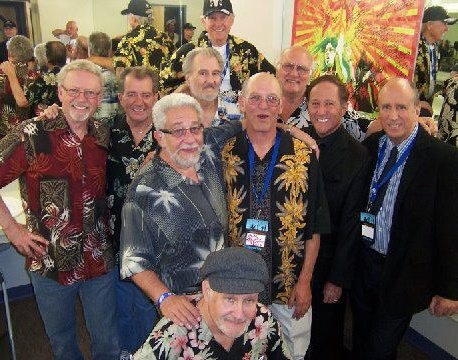 The Teenbeats, May 5, 2011, Las Vegas Rock and Roll Hall of Fame Induction Ceremony and Reunion Concert, Henderson Pavilion. Larry Chernoff, front; Keith Austin, to left of Steve Miller— with Hall of Fame producer Michael P Selinsky,
Cliff Fields, Lyle Smith, Paul Pursel, Elliott Lieb, Charlie Steele, and the late Donald Frassa

---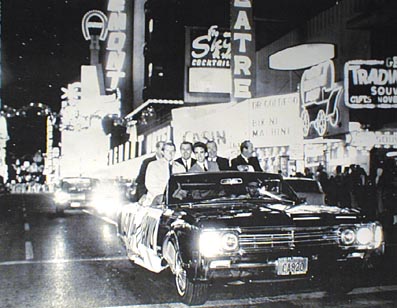 "The KLAS TV Family"
Christmas parade on Fremont Street, 1964.
L. to R. Dennis Hunt, Ron Vitto, Steve Miller,
Hank Thornley, Gus Guffrie.

---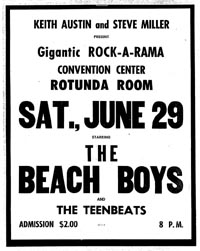 Steve and his partner Keith Austin presented the Beach Boys
at the Las Vegas Convention Center in 1964. The admission was only $2.00.
Other concerts produced by Steve and Keith between 1964 and 1968 included headliners Bobby Vinton, Dick and Dee Dee, Bobby Vee, Jackie DeShannon, Bobby Rydell, Wayne Newton, The Surfaris, Three Dog Night, Tom Jones, Lou Rawls, the Checkmates, Neil Sedaka, and the Grateful Dead.

---

His career related activities include:
partner, Teenbeat Enterprises, Inc., 1962 - 1968;
owner, Steve Miller Productions, Inc., cinematographers, 1964-1972;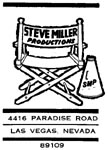 Steve produced three unauthorized Pepsi commercials in 1964. The first spot was written, produced, and filmed by Steve in Red Rock Canyon, and stars Keith Austin and Mike O'Brian.
The second ad was filmed at the railroad crossing now located near Green Valley Parkway in Henderson.
The mock funeral was filmed in the Teenbeat Club now known as Club Paradise. Steve is the minister and Keith is the dead man. Gail Herman is the girl that brings Keith back to life with a Pepsi.
The third ad was filmed on the site of the present CVS Pharmacy near Harmon and Swenson St. Steve is Frankenstein's monster, Gail Herman is the witch who spills gasoline from a Pepsi bottle onto the fire.
All three home made commercials were soundly rejected by the national and local Pepsi Cola company, the primary sponsor of the Teenbeat Club TV show that aired in prime time every Saturday evening between 5 - 6 PM on KLAS TV Channel 8 in Las Vegas.
The hyper-popular live program was produced by Phil Berle (yes, Milton's brother), and directed by Dennis Hunt. Channel 8 was owned by the late Hank Greenspun at the time. Mr. Berle encouraged Steve and Keith to keep making and showing the ads in total defiance of Pepsi and Channel 8's orders.
Another sponsor, Anderson Dairy, canceled their contract after Steve and Keith used Anderson Whipped Cream to spray on each other in the commercial entitled "The Shootout at Miller's Saloon."
In the three Pepsi commercials linked to here, Steve and Keith refused to cooperate with Pepsi Cola and to stop making fun of the 1960's Pepsi theme; "Come alive. You're in the Pepsi generation." National Pepsi management said the ads insulted their product by insinuating that "Pepsi can wake the dead!"
Based on Steve and Keith's refusal to cooperate, the Teenbeat Club TV Show was canceled ten times, but was brought back by popular demand ten times during its four year history -- each time more popular and with higher ratings.
Steve and Keith, both 19 at the time, were threatened with lawsuits, then almost arrested for trespassing and starting bon fires without permits, and for general insubordination for being royal pains thinking they could do anything they wanted because they truly believed they were local "rock stars."
Thank goodness Steve mellowed out and stopped pestering LV big shots after he became an adult!
Had he not been "straightened out," Steve was on his way to becoming a juvenile delinquent during the time his "TV show aired. He was arrested several times for misdemeanors and put on probation. His probation officer, Mike O'Callaghan, later became the Governor of Nevada. Because O'Callagnan "straightened out" Steve as a teenager, he later became a "Pillar of the community", and Keith moved to Santa Barbara California to become a multi-millionaire in the radio and television industry.
Keith's latest project is a syndicated radio program called "The Rock Files." He is the host of the program heard in hundreds of U.S. cities, and Steve appears on many of the shows as an entertainment correspondent.



---

Steve was a partner and sales manager in his father's business Miller Novelty Company, where he invented
the icon of Las Vegas Souvenirs, the Casino Dice Clock, 1968 - 1987.
---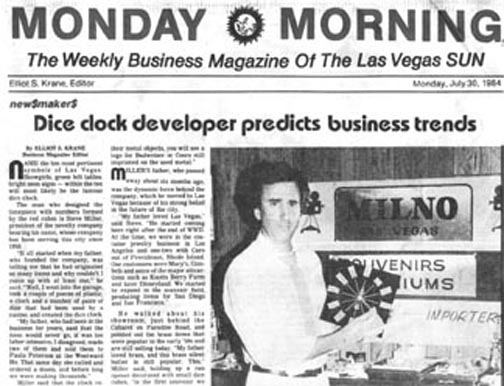 .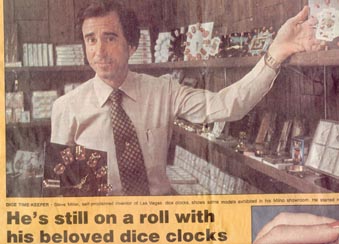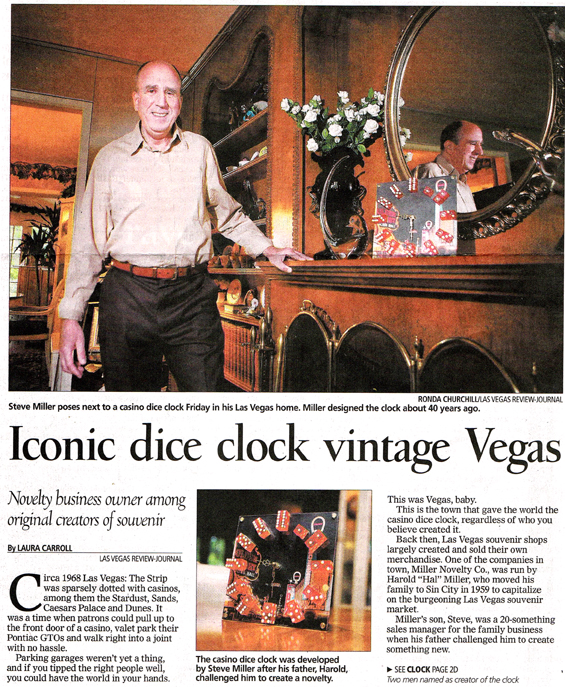 LV Sun, July 30, 1984 LV Review Journal, Sept. 27, 1984 LV Review Journal, Sept. 6, 2012

http://www.lvrj.com/business/dice-clock-traces-origins-to-vintage-vegas-168736936.html

---

Owner-CEO, Chief Instructor Pilot, aircraft appraiser/broker, Steve's Flying Service, Inc., McCarran International Airport, 1974 - 1982;
Featuring 14 airplanes, SFS was the largest flight school in Nevada.



President-CEO, Director of Training, Desert Southwest Airlines, Inc., McCarran International Airport, 1980 - 1982; DSA provided daily Grand Canyon tours and custom charter and sightseeing flights
throughout the Western US. In 1982, Steve sold both highly successful
companies to an investment group formed by his employees.
Both firms are still successfully operating at Henderson Executive Airport.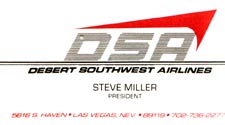 ---
Accident Prevention Counselor, FAA, 1987-1993
---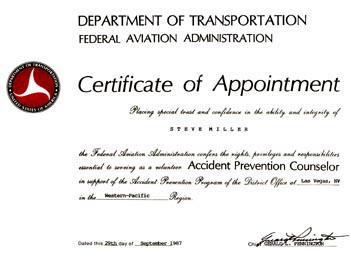 ---

After his father's death in 1984, Steve retired but was soon elected to be a Councilman for the City of Las Vegas. He served from 1987-1991;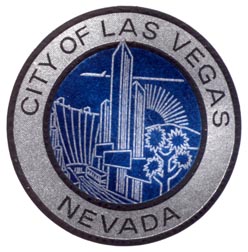 Commissioner, Clark County Regional Transportation Commission; member, Clark County Regional Flood Control District;
member, Clark County Economic Opportunity Board;
member, Clark County Homeless Task Force;
member, Clark County Environmental Quality Review Board;
member, Downtown Las Vegas Redevelopment Agency.

---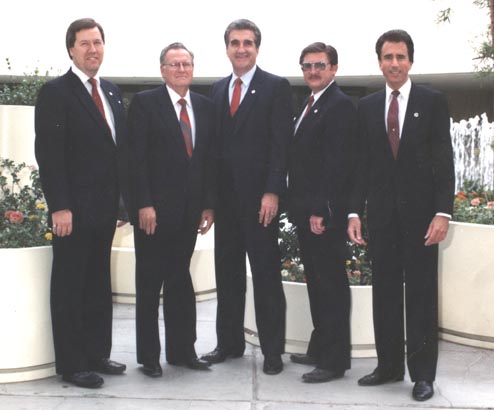 1987 Las Vegas City Council, L. to R. Arnie Adamsen, Wayne Bunker,
Mayor Ron Lurie, Bob Nolen, and Steve Miller

---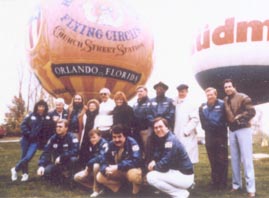 At a German airfield, October 1987.
Photo includes Ashley Hall, Claudine Williams, Karen Hayes, Tom Weisner,
Dr. William Pearson, Joe Brown, Bob Snow, Arnie Adamsen,
USAF Col Joe Kittinger (Ret), and Steve on a fact finding trip to study
Magnetically Levitated Super Speed Trains.

---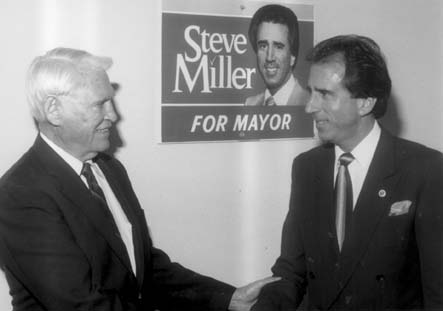 Four-term former Las Vegas Mayor Oran K. Gragson endorsed Steve's candidacy for Mayor in 1991.
Steve's reason for losing the election set a dangerous legal precedent and forever changed the political landscape in Nevada.

---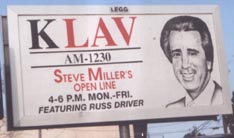 The Open Line radio program aired from 1991-1993 on stations from coast to coast. Who caused the cancellation of the program, and his reason made national news.

---

Vice President, Call America, Inc., political polling service, 1995-1996;
Steve was based in Manchester, New Hampshire during the 1996 Presidential Primary. He and his partner Rick Bertuzzi accurately polled and predicted the outcome of the election to within 2% accuracy.

---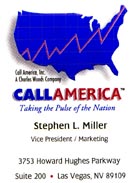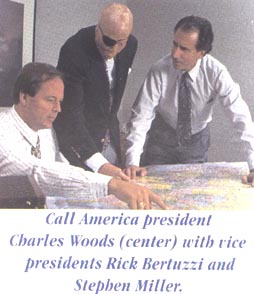 ---

contract instructor pilot, Nellis AFB, 1980 - 1981;
instrument, multi-engine ground and flight instructor, FAA, 1974-present.
---


Steve hosting dignitaries at
50th Anniversary of U.S. Air Force,
Photographed under B2 Stealth Bomber, Nellis AFB, NV, on 4-24-97
L. to R. Steve Miller, ATP; Charles Woods, Maj. USAF, Ret.;
Brig. General Thomas B. Goslin Jr., USAF Commander (B2);
Franz Stigler, WWII Luftwaffe Ace ME-109; Charles L. Brown, USAF Pilot (B17)
---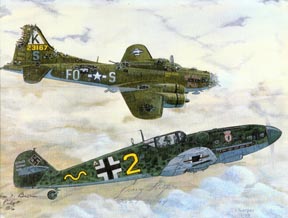 Illustration from the book Raiders of the Reich
December 20, 1943, somewhere over Germany,
Franz Stigler escorted Charlie Brown's crippled B17 out of harm's way.
_______________________________________________________
Memberships include: Nevada State Coordinator,
Nevada Coalition Against Gambling Expansion (outside Nevada);

---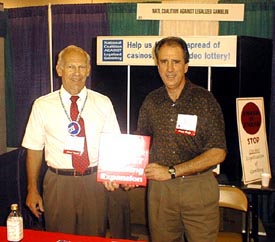 National Coalition Against Gambling Expansion Executive Director
Rev. Tom Grey, and Steve were unwelcome exhibitors
at the American Gaming Congress in Las Vegas, Sept.1998
_______________________________________________________
Volunteer-Speaker, D.A.R.E. (Drug Abuse Resistance Education);
founding director, Southern Nevada Clean Communities;
member, Taxi Courtesy Committee, Las Vegas Chamber of Commerce; member, Aircraft Owner's and Pilot's Association;
member, Baja Bush Pilots;
member, National Association of Flight Instructors;
member, Douglas County, NV Airport Advisory Committee
member, City of Las Vegas General Plan Committee;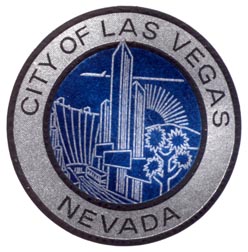 sponsor, Teens Against Cancer, American Cancer Society;
Director and Officer, Opportunity Village Association for
Retarded Citizens, 1967 - 1986;
Director and Officer, Goodwill Industries of Nevada, 1987 - 1991

---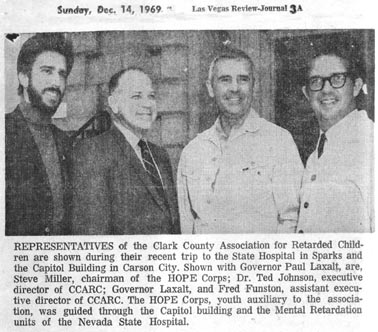 Las Vegas Review Journal, December 14, 1969
(L. to R.) Steve, Dr. Ted Johnson, Governor Paul Laxalt, and Fred Funston visited the Nevada State Hospital in Sparks. Miller, Johnson, and Funston were representing the Clark County Association for Retarded Children later known as Opportunity Village.

---

Steve began volunteering in service to the mentally retarded in 1967.
In 1970, he became one of the founders of what is now known as Opportunity Village. Steve was elected to six terms as Vice President and two terms as President of OV. He later served as a member of the Board of Directors and was ultimately elected to three terms as Chairman of the Board of Goodwill Industries of Nevada.

---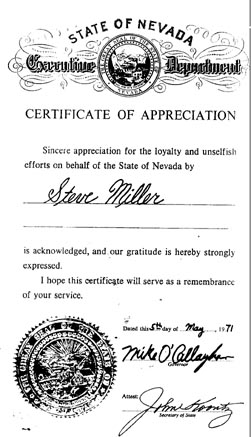 Though Steve always swam against the political current, Governor Mike O'Callahan thanked him for his public service in 1971.

---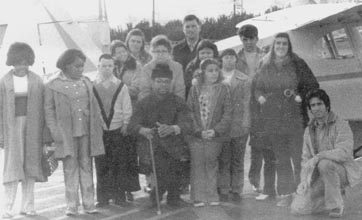 December 16, 1972, North Las Vegas Airport, The First Tri-Annual Steve Miller Flights for Love. Opportunity Village clients (L. to R.) Nancy Stephens, Barbara Thompson, John Brinig, Celia Foote, Mary Steinbach, Ann Clements, Joe Allen, Jerry Skolnic, Stephanie Lopez, Valerie Vandenberg, Claudia Bailey, Larry Gilbert, and Marylin Bowman join 27 year old Steve (kneeling) for a 15 minute flight over the city in his four seat 1953 Piper Tri Pacer. Steve provided this wonderful experience for mentally retarded adults every three years until retiring from Goodwill in 1991.

---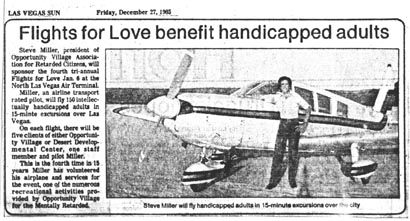 Las Vegas Sun, December 27, 1985
Steve, shown here with his seven seat 1967 Piper Cherokee Six, donated scenic flights over Las Vegas to clients of Opportunty Village, Desert Developmental Center, and Goodwill Industries until 1991.
---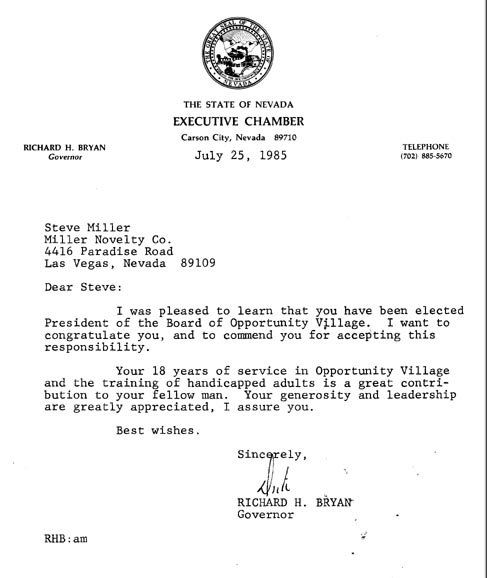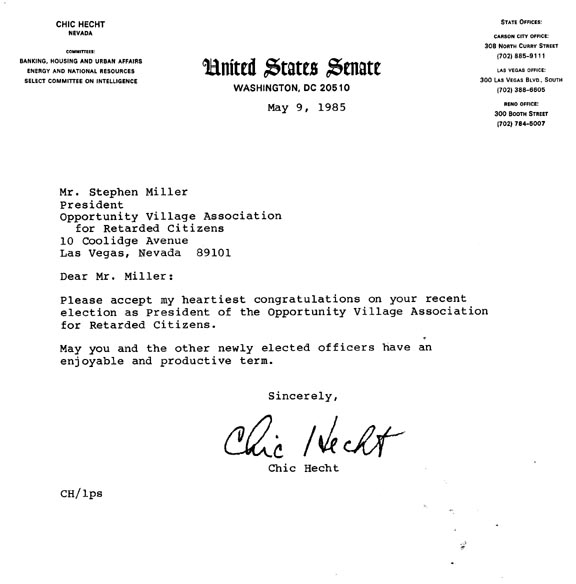 Steve received letters of congratulation from Governor Bryan and
U.S. Senator Hecht upon his election to his first term as President of Opportunity Village in 1985

---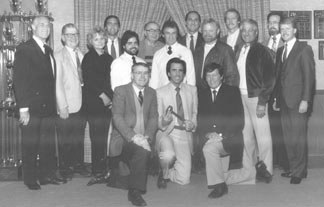 Outgoing OV President Judge Lloyd D. George (front left) presents Steve with gavel
while Directors including Carlton Adair, Mike Pinjuv, and Larry Brown look on.

---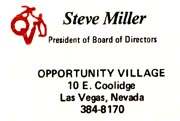 ---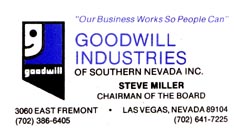 ---

sponsor and advisor, Aviation Explorer Post 747, Boy Scouts of America; sponsor and advisor, Hope Corps youth group, Opportunity Village;
contributed/piloted 50 mercy missions for The Angel Planes, 1985-1991. Chairman Emeritus of Goodwill Industries of Nevada, and President Emeritus of Opportunity Village for people with intellectual disabilities.

---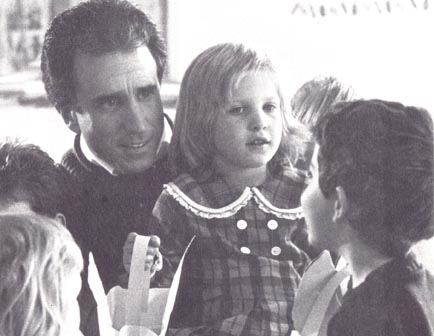 Photo from 1991 Mayoral campaign mailer

---

Steve was voted the
Most Effective Public Official in Southern Nevada,
Las Vegas Review Journal Reader's Poll, 1991;

---
---
Commander and President's Award, Veterans of Foreign Wars;
Parade Grand Marshall, Dr. Martin Luther King Jr. Committee;

---

Angel of the Year, Opportunity Village;
Volunteer of the Year, Opportunity Village;
Special Recognition Award for exposing fare box skimming,
Citizens for Better Transit;
---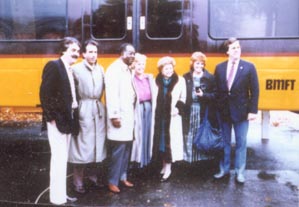 About to board a Magnetically Levitated Train in Berlin, 1987.
L. to R. Bob Snow, Steve, Dr. Wm. Pearson, Thalia Dondero, Claudine Williams,
Karen Hayes, Arnie Adamsen.

---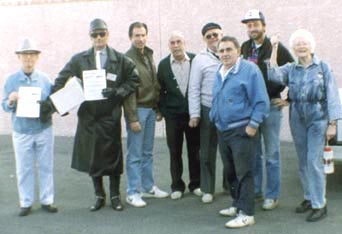 Citizens for Better Transit passing out fliers protesting bad bus service,
Downtown Transportation Center, January 1993
L. to R. Ted Mendalski, Eric Van Hoose, Steve, Robert Rose, Woody Woods,
Joe Maviglia, Steven Dempsey, Dorothy Orr

---

Angel Award, The Angel Planes;

---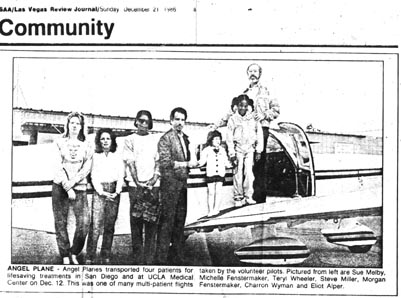 Las Vegas Review Journal, December 21, 1986
Steve donated over 50 flights to The Angel Planes flying medically indigent patients out of state for special medical services not available in Las Vegas. Regular stops included UCLA John Wayne Cancer Clinic, Shriner's Children's Hospital, USC Medical Center, and Los Angeles Veteran's Memorial Hospital.

---

Volunteer of the Year, Goodwill Industries of Nevada, 1989;
Humanitarian Award, Goodwill Industries of Nevada, 1991;
---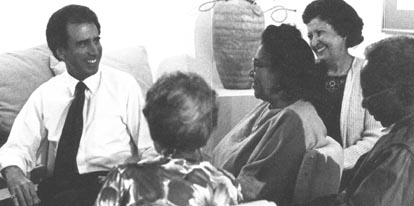 member, Clark County Senior Citizens Advisory Board.
Photo from 1991 Mayoral campaign mailer

---

His creative works include:
Co-producer, "Dangers of Smoking" American Cancer Society, 1964;
Producer, "Angel Aware" documentary film, Opportunity Village, 1968;
Sponsor, "Steve Miller Flights for Love," 1972 - 1991;
Co-author, Mission Statement and bylaws, Opportunity Village, 1979;
Producer, "Dennis" documentary film, Opportunity Village, 1984;
Author and Sponsor, Las Vegas Handicap Parking Ordinance, 1987;
Sponsor, Government Access TV Channels 2 & 4, 1988;
Co-author, Mission Statement and bylaws, Goodwill Industries, 1988;
Producer, "The Angel Planes" documentary film, 1988;
Author and Sponsor, City of Las Vegas Ethics in Government Law, 1990;
****
Author, FAA Aviation Safety Study for the Stratosphere Tower, 1990;
Co-founder, Citizen's Area Transit System (CAT ), 1993;
Consultant, United Steelworkers of America, Local 711A, 1995,
Publicity Chariman, 2000 Veteran's Day Parade, VFW Post 1753;
Advisor, 2000 National Study on Sprawl in Large U.S. Cities;
Steve often lectures on Ethics in Government, Journalism, Political Science, and Aviation Physiology at Clark County Community College and UNLV.

---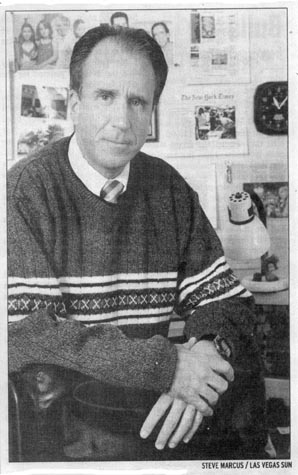 Steve in his home office.
Las Vegas Sun, March 25, 1999

________________________________________________________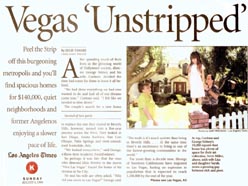 Lisa, Sarah, and Steve in front of their Las Vegas home.
Los Angeles Times, August 8, 1999
---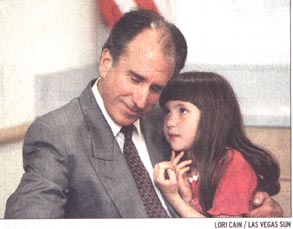 A tender moment shared between Steve and daughter Sarah Ann.
Las Vegas Sun, April 30,1999
_______________________________________________________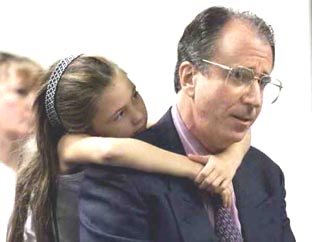 FRONT PAGE, Las Vegas Sun, July 20, 2000

---

He was born December 7, 1944 in Los Angeles, California, son of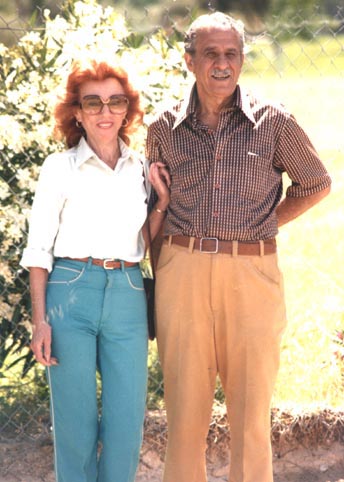 Harold and Sally Ann Miller
---
Steve attended Rio Vista Elementary School in North Hollywood, and Le Conte Junior High in Hollywood before moving to Las Vegas in 1959. He graduated from Las Vegas High in 1962, then attended UNLV where he majored in English and Journalism.

---

In 1998, Steve was inducted into the Nevada Broadcasters Hall of Fame. The selection criteria for participants is a minimum of 20 years broadcasting experience.


---

In September 1999, the Las Vegas Review Journal honored Steve by listing him in a historical record of the people who contributed most to the shaping of Southern Nevada. In their special edition THE FIRST 100, The RJ editors stated: "Steve Miller -- City Councilman involved in government access TV and the CAT bus system."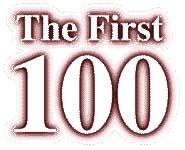 ---

On May 1, 2011, Steve and his former business partners Keith Austin and Hal Miller (posthumous)
were inducted into the
Las Vegas Rock and Roll Hall of Fame.